Three Poems by RT Castleberry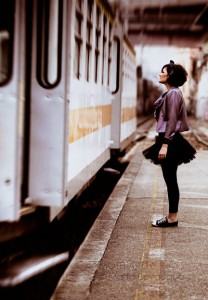 A LONG DAY AWAY
Summoned by rumbles of thunder and ice,
I watch rain gather to pools,
gleaming shards on pebbled sidewalks.
Clear this later hour,
the sky is soft as blue chalk.
I stand on a side street stoop,
grinning with the sidewalk traffic turn,
the blank-faced tumble of iPhone talkers.
The crosstalk blur between ringtone and text
catches Michael Kors heels in crosswalk cracks.
Noontime tryst, stock trade, sandwich order
are scrapped by dropped coverage,
a car leaping a curb.
English engineers in exile preen at the corner light,
their backchat coarse with Eton slang, Saudi complaints.
Shivering through lunch break,
the weekly check workers crowd the bank lobby.
Straw hat city gardeners, vegan yoga wives
seat their kids at separate tables,
chatter over brunch wine, iPad petitions.
A bus-borne breeze folds back a woman's London Fog.
Harlequin diamonds seamed on her dress,
she flashes a flirty smile.
Back a year, I heard three drunk's confessions.
Sheltering at bus benches,
the tidal line of pre-fab bars and bistros,
they haunt the streets as I do.
Cigar butts pile at my feet.
Empty cans rattle in the bag as I rise.
Easily cruel, dismissive as a closing door,
patience wanes, the wind picks up.
I could not fault the beauty of this day.

FOURTH STEP
I live in the ruins of early morning—
the writer's 4am fall to bed,
a workman's anxious rise at 6.
As a drunk, a sober man
I've seen dawn arrive, expectation rise
like a shaking hand to the window shade.
I wake now to no better image
than landscapes blasted to bone,
blowsy as a border crossing.
My life has been mistrust
measured in numerical lists:
Betrayal 1, Grudge 2, Falsehood 3.
"Someone must suffer" is how I understand love.
Transient as a migrant picker, a circuit rider,
the countryside pattern is revealed—
rum and Coke for a hundred hours,
rehab and recovery.
Those who please fear bare language.
Raw as the winter river flood
that rends as it flows,
I lend a brutal voice.
There is a warning every day:
the leisure of luck does not apply.

BITTER LATITUDES
The holidays—Mother's Day, Father's Day,
are crossed off with no celebration:
no ex-wives, no ex-kids for me;
my parents are decades dead.
So I salute the Sundays as any other—
late sleep, the paper spread across the couch.
 . . . . . . I see them now:
 . . . . . . tortured–of course, drunks settling
 . . . . . . wasted into ruts of work, binge,
 . . . . . . weekday indifference, weekend rebukes.
 . . . . . . I recall one school afternoon,
 . . . . . . arriving home to an eviction notice,
 . . . . . . a landlord raging, no letter of direction.
I'm a man of restrictions and reflex,
settled into certainties of conduct, dress, worship.
Careless with their pain,
my parents knew only injury, only oblivion.
I watched them tapping off cigarettes,
whispering in the morning.
I took from them disregard, a cold hand,
how to tilt the map toward home.

R.T. Castleberry is a widely published poet and social critic. He was a co-founder of the Flying Dutchman Writers Troupe, co-editor/publisher of the poetry magazine Curbside Review, an assistant editor for Lily Poetry Review and Ardent. In 1999, his work was chosen for the Metro Downtown Transit Streets Project "Texts In Context." The "Texts In Context" project uses historical documents, poetry and prose from authors with a Houston or Texas connection to illuminate Houston history. The 100 texts chosen were engraved on 2ft X 2ft. granite paving stones and placed at sites in downtown Houston, TX in 2004. His work has appeared most recently in Santa Fe Literary Review, Caveat Lector, Comstock Review, Green Mountains Review, The Alembic, Paterson Literary Review, Silk Road and Argestes. He was a finalist for the 2008 Arts & Letters/Rumi Prize for Poetry. His chapbook, Arriving At The Riverside, was published by Finishing Line Press in January, 2010. An e-book, Dialogue and Appetite, was published by Right Hand Pointing in May, 2011.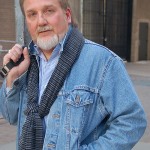 Bio photo by Charles Tatum II

–Art by Marta Bevacqua
–Art by Alphan Yýlmazmaden
–Art by Seamus Travers