All That's Left by Cyn Vargas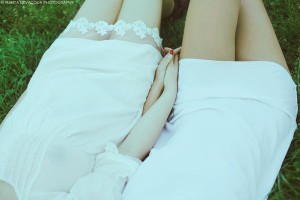 On the plane ride to Guatemala, you seemed more like a nervous child than a twenty-five year old woman. During takeoff, you held onto my arm, your head on my shoulder, your long curls fell down my neck and across my breasts. I knew you didn't like flying, but you said you wanted to go with me anyway. Visit another country and meet my grandma whom I saw every summer for two weeks since I was ten. We've been friends for so long. It's about time we took a real trip together, you said.
At hour three, you got a little more anxious and grabbed my hand, your knees shaking. We had held hands so many years before when we were six and went on fieldtrips. In high school when we went to haunted houses that didn't seem so scary anymore.
Are you alright?
It's just stupid. I need to, you began, but never finished.
You let go of my hand and turned to face out the window. I leaned beside you and saw only clouds, which as kids we said looked like turtles, or balloons, or stretched out whip cream, but we weren't kids anymore. Now, they were just clouds.
     You're thinking about him, you said still looking out the window.
     When am I not?
     You need to let go.
     I know.
When we landed, my grandma said we were the prettiest young ladies she had ever seen. I told her in Spanish that you and I were best friends since fourth grade and she told me in return to treasure it because one didn't find friends like that anymore.
Remember on the drive into town, we saw that dog the color of horchata limping down the dirt road? He had ribs like hardened rainbows under his thin skin and a tongue- not pink, but beige- tanned from hanging out in the fierce sun.
My heart hurts for him, you said.
My grandma took us to the mercado where we bought those strapless dresses– mine green and yours yellow- and matching straw flip-flops with tips that rippled like waves along with barrettes shaped like papayas and mangos, and wooden necklaces of the Mayan Sun God that we paid more for than the old lady had asked. She needed it more than us American girls whose hands were filled with bags of trinkets that we'd soon forget or misplace just a short time later.
You're beautiful, really, you told me as we waited to dodge the cars to cross the street, our dresses waving in the warm breeze and I thought how I wished he had said the same.
Then there was the earthquake. The one we exercised through. After just a week of inhaling my grandmother's home cooking, we almost couldn't fit into the clothes that we had brought. So, we hopped around like wanna-be ninjas to some kickboxing VHS cassette we found in her attic. We giggled and it was like we were teenagers all over again. My grandma got up and peeked into the living room. She glanced at us and we took our eyes off the man yelling through the tape. She grinned. We smiled back not knowing what was going on, tasting the sweat on our lips. She turned and left.
The next day she said she didn't want to scare us when it happened since obviously we hadn't even noticed. The earthquake wasn't a strong one, but enough to be felt by every other person in Guatemala City, every dog and chicken and horse, but not by us. We were too into our own world in that living room, at that time.
After just two days you started to call her grandma too. I knew you didn't have one, not one you ever knew. I shared my grandma with you.
Those next several days we were closer than we'd ever been. We lingered along a beach with black sand, we ate fresh fish from the ocean, but we requested the heads to be cut off because we didn't want to see their faces, we ignored the cat-calling from men shorter than us who carried machetes at their sides and wore hats so big their faces masked in shadows. We even climbed the pyramids in the middle of the jungle and when we got to the top we shared a sandwich and soda.
I'm happy to be here with you, you said then wrapped your arms around me.
Me too.
The night before heading back home, we sat on the roof of my grandma's house encased in the hot night under the sky with stars like melted sugar cubes, the volcanoes veiled in darkness miles and miles away. We watched one spurt lava of red and orange thick fire like syrup.
That's when you told me that you loved me.
I love you too, I said.
     No, I really love you.
We heard some horses trot down the dirt road and could smell tortillas coming from somewhere and everywhere all at once. Some men spoke in Spanish as everyone did, yelling something about cerveza and which cantina to go to.
I love you like you love him.
You held my hand that night not like you did on the plane when you were nervous instead you interlocked your fingers with mine. I felt your bones bend and your skin slippery.
Like him?
Yes, like him. I love you like you love him.
You squeezed my hand and someone played cumbias that echoed into the street. The marimbas and the guitar swirled around us. I rubbed my leg, the sunburn stung under my shorts. I scanned down when two cars almost collided, one honking the horn and yelling something I didn't quite catch.
You gazed at my hand in yours.
     Look at me.
I did.
I know you don't feel the same. I don't know why I feel this for you.
In a way, I think I always knew and I didn't care. It didn't matter that you were a girl. We were friends that spoke of all things, starting off on one and branching off so many times for hours, and still it felt like seconds had passed.
In the moonlight, I saw your eyes glisten. I wanted to love you at that moment. I knew how lonely you felt and how you weren't good enough. The foolishness of thinking you must not be good enough if the one you love doesn't love you back.
When I met your eyes, your lashes curled like straw, your hair fluttering, I wanted to love you like that.
But I didn't.
I couldn't help who I loved as much as you couldn't. If that were so, we would've been happy on that roof, straining to hear the ocean, and smelling the dirt and the wetness in the air, making jokes about how we were the tallest people in the country, talk about our grandma who was almost tiny enough to fit into our pockets yet the most amazing woman either of us knew. We would've kissed there- our lips meeting, our tongues sliding, finally being together. We'd be what we each wanted.
But I didn't love you like that.
My heart hurts for you, you said and let go of my hand.
That night back in the room we shared, I called out to you. Are you awake? I thought I heard you sigh, but you didn't say anything.
We said goodbye to our grandma and on the plane ride home you didn't reach out to hold on to me though you seemed anxious still and when I reached for your hand, you slid it away.
I'm fine, you said and turned away looking out into the clouds once more.

Cyn Vargas' short story collection, On The Way, is being published by Curbside Splendor Publishing in spring 2015. She holds an MFA in Creative Writing from Columbia College, and is the recipient of a Ragdale Fellowship and the 2013 Guild Literary Complex Prose Award in Fiction. She was named one of Guild's Literary Complex's 25 Writers to Watch in 2014 and has received two top citations in Glimmer Train's Short Story Award for New Writers contests. She is a company member of the award-winning storytelling organization 2nd Story. Her work has appeared inSplit Lip Magazine, Word Riot, Hypertext Magazine and elsewhere.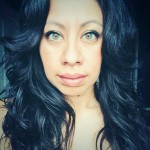 –Art by Marta Bevacqua
–Art by Alphan Yýlmazmaden
–Art by Seamus Travers