Golden Day by René Ostberg
I wash you with a serengeti paint brush.
I turn the time we had into a rectangle.
Meaning, I give it edges…
then soften it, with savanna light.
We wrestle in the long golden grass.
The earth breathes out ecstatically
clouds of crickets and gold dust.
I turn us into lion cubs.
I turn your gripes into growls
your come-ons into mewls
your gasp into a roar…
then I leave. I go only a short way.
I trot across the plain.
I turn 10 years distance into 10 feet.
I never meant farther than that.
I build a frame of gilded edges around regret.

René Ostberg is a native Chicagoan who still resides in Illinois. She writes a travel blog called Writing and Wayfaring (www.writingandwayfaring.blogspot.com). Her writing and photography have been featured at Eunoia Review, Booma: The Bookmapping Project, Literary Orphans, Rockwell's Camera Phone, Wilderness House Literary Review, We Said Go Travel, and the Encyclopaedia Britannica blog.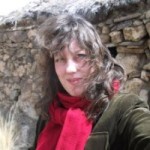 –Art by Marta Bevacqua
–Art by Alphan Yýlmazmaden
–Art by Seamus Travers