Stick on Stone
by Michael Gallagher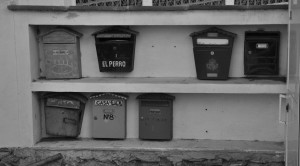 We knew each other only as men
Emigration saw to that:
Him in London, me in Achill
Me in London, him in Luton.
Even living together, we remained
Strangers in a rented room,
Speaking, not talking,
Robbed of our relative roles.
Sure, there were memories –
One golden Dukinella day
When Mick, the Yank, called;
We straddled a low stone wall,
Talked of Wimpy and McAlpine,
Roads and bridges,
Digs and pubs;
The boy was man!
A lunchtime booze in Wandsworth;
Three of us now living in London,
Yet chatting only the once.
Inheritance was split, spoils divided,
Unequally, but with good humour,
Padraig was always his favourite – and mine.
Nights in Castlebar hospital
After the emigrant's dreaded summons:
"Come now, while he still knows you"
Between the awkward silences,
Came words of stuttered support;
And he survived – again and again.
I almost made it, that last time,
Got to Westport before news
Of our final silence.
Now, as I walk in Dromawda,
His gnarled stick, a stolen spoil,
Taps the unsaid
On the tarstone road.

Michael Gallagher, a multi-award winning Irish poet, has been published worldwide and translated into 5 languages.
His collection Stick on Stone, published by Revival Press, was launched to critical acclaim at Listowel Writers Week in 2013. 'searingly honest, angry, tender, hurt and ironic' (Gabriel Fitzmaurice).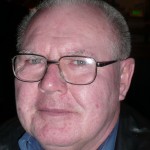 –Forground Art by Sarah Hardy
–Background Art by Zak Milofsky