Dubstopia
by June Caldwell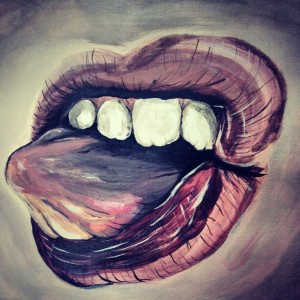 Scrambled egg beside a steaming gee-pad Carol left on the mattress. Lidl brownie with ants. Two packs of Amber Leaf. Wet jeans. Sun tearing in the window through an A-Line skirt she stole from yellow teeth bag-face in Oxfam. Book of Yeat's poetry open on a fumble in a greasy till and add a halfpence to the pence. Leather Joe's address book with dead dealers whacked by the Nike gang in Finglas. A picture of his granny curled on a couch holding a bunch of Chrysanthemums; monster Holy Mary in a Punto blue dress peering down her seersucker top. Carol's shoe stuck in an antique trumpet. His passport. Loose turf. Sunglasses mounted on a Stanley knife.
It was too late in the morning to leave The Old Bank: PinStripe would be downstairs showing clients around giving it the high-dough this and that: sash windows, safe room intact, De Valera around the corner, locked horses on the towpath, ladies with hats, worth a packet when the stock market convulses back, priceless mirrors, legend says there's a ghost, sixteen rooms; would make a cracking hostel, Real McCoy Victorian chimneys. Gonzo decided to hang back a while and have a wank.
He wanted to bang the nurse in The Mater who took bloods. He wanted to bang her cos she talked down to him. He wanted to bang her cos of the dirty way she leant over and smacked the vending machine, pillow tits blobbing all over the gaff and well she knew it and well the old codgers with the fucked hearts knew it and well the pleated receptionist with the tall latte knew it and well the trolley-pushing hunchback in plastic green knew it and well he knew it: they'd jelly when he gave it to her goodo. She'd have to shut the fuck up saying shit about Hep-C, muscling, skin-popping, if Carol took mushrooms when breastfeeding the day the baby died. He wanted to bang her for saying things he didn't understand – subcutaneous – posh words for abdominal bloating and liver damage, infertility and testicle shrinkage. He wanted to bang her.
She'd be down at the Old Mill on the canal sucking off Leather Joe for a bag. Willy would be there too with the scab-ho wrestling over a lukewarm tin of Stonehouse, suckin' her face off. Beamer the old tramp with the no veins. Hasslebat, his ginger eyebrows lighting up hot worms in a snow of forehead. Smell of piss hacking the sun-up. Widearse Wendy with her tales of Berlin, before Guzz floated down the river with a bag of leaves in his mouth. Guzz who survived winters in Leeds in the eighties sleeping under truck stop Lorries, draining antifreeze through slices of white bread under the engine holes. Phib, their Jack Russell in a rusty pram lickin' stolen Satsumas. They'd be swaying by now, talking bollox, tapping passers-by. 'Scuzzz me scuzzzz me scuwizzzzmeee. Do you want me to be like you? Is that it, do you want me to be like fuukin' you?'
He didn't mind what Carol did as long as no-one came in her. She'd be back with the gear in the afternoon, giving it the full candy: 'Darlin baby I fuckin' lurv you, d'ye know dat? I'd fuckin' keel over fur yew.' They'd lie on the wet mattress and roll into the Mournes biting sweat gashes off rivers, green slime, bits of broken helicopters, church bells in ears, cold tinny blue and God's feet, big as cheese urns, landing unceremoniously in a crumpled scared heap, pulling at Carol's scraggly hair to see was it a bastard lion's head, vinegar swish-crash, fluff cellophane greed stirrup blood mount. Sometimes the bank would turn into a spinning barrel turning shrill pork belly with them naked rolling and banging into the ridges with running whiskey gag, the wood burner he nicked farting out leftover specks of fire on cling-film skin, until they couldn't breathe alone or together and then Carol would hear the ghost of the bank inside the old windows, telling her to pick up the horse shit and bring it to the man in the Botanic Gardens for the flowerbeds.
"D'ye hear hiyim?" she'd say.
"Wot?"
"He's in heeyore, talk'n aggen."
"Curse he is, shurrrup an' he'll go 'way, fuuksaike!"
She'd hear the dead baby too, asking for his doo doo. 'Gimme boy doo doo, doo doo mine!', and he'd have to pretend to hand the absent baby something, anything that might look like a doo doo and then he'd slap it into her to get her to stop seeing the baby and she'd ask for another one – tits well gone since they'd started using again – nipples were teacher's eyes squintin' at the crap way he pronounced Irish words. Sometimes he'd bash them, but she never seemed to give out about that.
"Gimme a baybeee, I want mi babee back".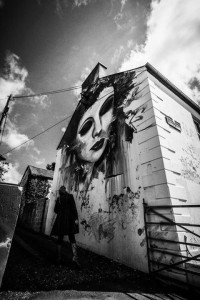 He stopped bursting into her cos all three kids were reefed away. No way would he be doin' that again. So he'd pull out and squirt on the wood floor, and she'd slip on it going to the jacks and call him a 'prick', falling asleep until the others came later. He'd collect them on the fire escape, one by one, no way hosay during de day in case PinStripe got to know about the squat. Couldn't use the burner until late at night cos of the smoke snakin' and they weren't able to cook in it just on a camp hob so over and over again went without food for days sambo'd into a lot of other days. Lucky to have de place. Most had to sleep in the bandstand on the canal or in de laneway behind Doyle's Pub that burnt down, sausaged in giveaway blankets with Leather Joe screamin' inside night terrors of ginger arse rape Da until the sun flew up over the broken roof tiles and car beeps gnashed at them, pong of Spar hash browns, burnt dry, useless as donkey pelt.
By three o'clock the pains were rippin' and no sign of her, so he lashed down the ladder with its shitbag of miry snails, out onto the North Circular Road. Chink Man was outside his shop with its windmill of sweeping brushes, Jesus clocks and Sudoku toilet roll. 'You no come in here!' he shouted. Carol dipped him too many times, taking a slash-swipe at his Mrs another time when she was packing the window with animal motion sensors. 'Mine's a beef satay bud!' Gonzo hissed back, sticking his middle finger up in the air. 'You complete b.a.s.t.a.r.d!' Chink Man roared. Only once did Gonzo wonder why he hated him so much for taking a job he'd never want.
Quick glance down Goldsmith Street and onto more bump of side road. Every step up step down hurt like fuck. Fatsos by the cattle-cart stomping into Curves gym to the lyrics of I Will Survive. He sang along to stop the pain from slit-sucking out his intestines. And now you're back from out der space…I jus walked in to find ye 'ere with dat sad look on yer face. 'C'mon now ladies, knees up and up and up again, that's it, keep going, let me see those knees!' The Russian tattoo shop and Made By Mary with its calf hole carvery, Brenner in De Joy on the left, IRA prick, dying for Mother Ireland in a 15 X 20 exercise yard, the hospital with its wheelchair morgue; militia of swollen ankles, around by the battered yellow flower shop and on and on, holding onto his guts like a stolen Christmas present. Sweats horsin' down under denim, face the dye of fresh snot. Passed the launderette where his Ma used to wash the boy's clothes on a Saturday before packet potato soup with dinosaur lumps. 'Don't sit on the machines Patrick, what did I tell you Patrick, are you listening to me Patrick?' When he was small enough to be growing that snorkeler that would give him 'Gonzo' for all his days. He'd probably never see her again. She certainly didn't want to see him again. Most days he'd clear forgot what she looked like.
Outside Reproductive Choices on Berkeley Street: he could see a scrape-load of them, redder than Mars moons, holding up placards for their right to life like taxi drivers at Dublin airport on the pick-up. He read in The Sun that Obama got rid of aborted baby cell flavours in fizzy drinks, the ones that make you belch. Bowed de corner onto North Frederick Street bucklin' to puke; stream of moss green gooey liquor pouring into slick brick. "Look at de state of 'im!" he heard a voice bellow from a basement flat. Gonzo wiped de puke with the corner of his jacket, using the other sleeve for his eyes. The worst was the misery of desperation. Digging up dead people for pocket watches, the scrap metal run, bashing old people in old houses for a twenty euro bag. He could hear more voices. More laughter. More bawl. Howling from inside the ancient sewers under Dublin filled with fibre-optic cables, calp, acorn turds, fermented Vikings, diagonals of dead birds flying through Centuries of tidal pools to get here to nowhere. 'Down here ye wankorrrr! Gonzo, 'ere!'
At Bustlers' Gym, the ugly bake of Dessie Kearney peekin' up, a cortege of dagged ewes geekin' out from the slip of lace curtain with meringue holes for suckin' in the day. 'Have you got any gear?' Gonzo asked. 'I'm in de bads'. Dessie beckoned him down the spinal. In the sitting room on the table, he could see the spoon, tang of cotton fever. Plug-in neon wolf picture on the wall to send heads carroty spinners. Two cans of UHT cream on de mantle. Skinner in a Sideline jacket handed him a leprechaun head of Nescafé. They could sort him out, Dessie said. He could sort them out too, with a favour. Gonzo wasn't known, or wasn't that known, or cared about. Bob's your uncle. Fannywollop's your aunt.
Dessie held him down like a barber might do with a six year old boy. 'Scank the Russians are sellin' is drivin' the cops plinky plonky,' he explained. 'Low grade cack that makes punters scrabble around dem streets like hogs. Dublin City Council having a right old mickey fit with collapsing junkies everywhere and those Triad muppets fucking about chopping gigot chops off wackos owing as little as a tenner. Kip so it is. It's not how we ever did things. Even dem grannies are gettin' in on it selling horse tablets down the Boardwalk till new stashes arrive. Bitches used to be happy shifting cauliflowers & pears. All of it needs sorting or we're toast'.
Skinner piped up: 'Going for a song as well, so it is. And they're lobbing chemical splatter into the gear Gonzo. No competition. More addictive than Big Whippet or Mullingar Mud'.
The drug scene in Dublin had got boiled egg bad. Four friends in as many months had dropped dead from bad gear. He looked at Dessie who was eyeing two lesbos on the couch. One of them, skinny as rashers, was pretending to grate her tongue. 'Yewer fuukin' gas', she said to her mate, bending over to kiss her full on the gnashers. Both wore matching Dolphin necklaces.
'There's small kids farting about on bicycles  picking iPods like apples off O'Connell Street,' Skinner told him. 'Muggings are up a thousand per cent, robbed cars selling for under €500, all cos of this new shit that's on the streets. Havoc. Operation Stilts Gardaí are calling it. Clamping down like steel clips on a dirt-bird's nipples'.
Gonzo hated Dessie even in school when he lobbed custard out the window at passing priests and pensioners, chasing after seagulls on de Buckfast zig-zag, giving his 15 yr-old girlfriend a black eye for buying de wrong smokes. Skinner was worse, he could tell. Grade-A psycho who'd snap yer fingers off quicker than a fat kid at de zoo smashes a Kit Kat. Now they were turkeychesting with Russians dealers, taking on the entire muscle-for-hire empire. Russian gangsters in silver jackets trafficking teenagers by day, raping dogs of an evening. Ghetto of mayhem and fear papers were calling it. Funnel-dump from ringworm roads right up to Talbot Street, Gardiner Street and down the flank of docks to Fairview, casting into surf and howling out of rust-caked eyes into waves, sand shifting beneath drug boats, narrow little sea gods sucking at gravel and dancing a slithery leap. Low-cost booze and spat-back-up methadone from lippy whores in slippery capsules was all you could see in the city centre before one o' clock in the day. By early afternoon the needle peddlers creaked into the gush of lanes behind Moore Street, Abbey Street and beyond, sliding to a stop the same way drops of water do on Carol's shampooed hair. Cops didn't give a gypsies' as long as people like him hurried de fuck up and died. Junkies only made news when they snuffed out at tourist sites or were found lynching from concrete tongues high up between those buildings on Dame Street.
He didn't take much convincing. Skin's hands spread his furry cheeks apart to do the business. Arse was a humongous burger, the ones he used to get in Wendy's in O'Connell Street when it first opened in 1987: spongy warm baps, melted Easi-singles, hot pickle sauce. Slip slop, slip slop, up with de cacks. Three bags of scank in his butcher's bin, street value:  €90,000. He'd drop de sludge and be back by three ticks, home to Carol for around five.
The city tipped down in a duck beak towards the Garden of Remembrance, rain scattering Swarovski beads on the path as he plonked along. He thought of Carol's fresh face at 18. Cement angels leaned chin forward from Georgian chimneys. Dogs of light barked down. 'I'm out of me bleedin' nugget!' he said, out loud. Pains fostered out elsewhere, he felt boundless, happy. Met her roight here with a gang of inner-city boys from de flats around Dominic Street, drinking cans and dancing to U2 songs on a ghetto-blaster sometime in the middle of 1994. She'd weight on her then, chubby sweet smile, horse-tail of hair whooshing from end to end in de sunbeams. They kissed for an hour without stopping: wet balmy tongue slosh he'd never done with any other burd. Sometimes he still felt guilty, but Leather Joe said, 'There's no stopping some, and ye never forced her to take it.' The counsellor from NewPaths also explained that 'damaged people have a knack of stumbling on one another no matter what, in the way that water always seems to meet its own level.' It made sense that first time they tried to get off it together. Both their dads were alcos and bashed them. Both their Ma's couldn't see anything wrong with their Da's and bashed them. Few weeks later, they fumbled and gorged and slopped into one another under the flat-leaf bushes in the Gardens. 'What ye doin' to me boy, wot ye bleedin' doin' to me!?' Lads circling de railings, clutching chimps, uuumphin' them on. 'Slapper! Do her one!' Afterwards they said Gonzo was a right grunter, like those fuckin' mating seals on RTÉ. 'It's you and me babe, no-one else babe, you'll do me babe.'
At the edge O'Connell Street where pigeons shat on the cement noggin of Charles Stewart Parnell, a crowd of mallets warbled about pay cuts. Aulone clutching a salad cutter was ranting blue horror about pension rights. 'Sixty four billion to those feckers in the banks so they can fix their own balance sheets!' Grey-haired Sinn Féin geezer smellin' of haddock was giving it welly about Éire needing a game changer. Group of girls, no more than five or six with banners: It's My Ireland Too. Normally he'd stick around for de dip, but Dessie warned him not to feck about, get it done & dusted 'pronto'. Skinner held onto his social welfare card and Carol's dead Ma's gold locket she asked Gonzo to keep safe for always. Cash and more gear when the job was done.
Gonzo wolfed sideways shrieking his childhood battle cry: 'Me head! Me head!' He spotted Hot Wok on North Earl Street, stomach doing a Hare Krishna pink salmon drum. Thai waitress with ladyboy lips looked like a hot slapper off the internet with a rake of sausages slithered in so her shaggy wangle was a filtering system inside an astronaut's suit. He sat at the window starin' out at so many formless faces, then back down at strips of steaming courgette. 'Tolkuchka' was the word Dessie used to describe the Russian drug cartel that had taken over. All those words ended in a choke. Carol had done a few down the canal when they were clear out of dough…said they were rough as horseshoe crabs, cocks reeking of sauerkraut.
'Every bit of 'em smells like a belch,' she said. 'Love slappin' their wimmin' as well'.
Pumped up on steroids, egg hatch maggot breeders, dripping sex trade, artificial money, begging scams. He could even see those Soviet-bloc prozzies too, a whole PVC red army of them soggy-spread over the back seat of metallic Audis', slurping on mafia peckers. Head nut was like Keyser Soze from The Usual Suspects except taller again, well able to giraffe over the walls of Mountjoy Prison, boiled eggs in his gob crammed full of heroin, dropping straight into famished jaws. Baba Yaga they called him, because of his man boobs. Lived in a steel hut at the edge of Rooster fields in North County Dublin. A gaff that stood on electronic chicken legs, garden fence emblazoned with teeth he'd personally knocked from debtor's heads.
When the crowd in Foley Street got this new gear that Dessie and Skinner had messed with out onto the streets, napalm vomit and bedlam would rain down on Dublin town. Hail struck down everything that was in the field in all the land, both man and beast. 'Nuclear button is up me crack,' Gonzo murmered. He had a looming vision of advancing Russians from every stone wall and crevice in Ireland, marching into Dublin, fat knuckles fisting indigo sky. There's be black smoke meandering their necks, hiding bricks in plastic bags, Glocks in socks, AKs, MAC-10s with their spray and pray facility, lumpy grenades, nail bombs, acid pellets, even animal traps to pull down the enemy at window displays outside Cleary's. Вы ирландского народа умрут самой ужасной смерти! Где твой Бог сейчас!
He spotted Widearse Wendy out de window crouching down at the door of Dunnes, knickers on display, damp with piss maps of the Philippines. She was swinging a bottle of Old Cellar at passing shoppers scouting cut-price gizmos from the pop-up shops. 'Gonzo, ah me old bud, GONNNNNZO!' she spattered.
'Carol was reefin' for ye,' she said. 'Some onion head lookin' for you, says ye owe him a wormload of Euros'.
She was sitting with a Roma pleb, trombone full of bronze; old feet smashed up for begging bone pickle. He was only ten minutes now from de clop. 'I owe no-one nutin',' he said, trying to figure out who yer man might be. 'Is Carol alright?' he asked. 'Hope she's not giving dem uns much grief?' She could get snarky sometimes when juiced up to de girders. 'Ah she was givin' Phib a bit of a kickin' cos he was in and out of the water,' Widearse said. 'Leather Joe says yez should get rid of the smelly little fucker, more mischief than worth. But I says 'no way' sure it wouldn't be nutin' round 'ere without him, mad little yoke. Ah Gonzo ye shoulda seen him, in and out of dat water, de little ears on him, smellin' of knacker nappies so he was. Have ye any odds for uz?'
Gonzo told her discretely he'd no spondoolies but he'd soon be in de loadser if a certain thing worked out later on. They'd have 'em around the squat in de morrow, beer and boiled cocktail sausages, Bord na Móna goat turds in de burner, enough gear so they could all stay stub for a few days, sopping in boogie. He leaned over slowly, down to her waxy ear crack where he murmured de score as a morning prayer O Lord open our lips told her what was inside him in anyways in the darkness of this age that is passing away. If she said ought to any fucker dem Russians would make sure he was floating beetroot body parts in a stinkin' pot of Zharkoye in some nameless side-door soup kitchen down the quays.
'You always end up on your feet while the rest of us are on our bleedin' heads,' Widearse Wendy laughed, handing Gonzo de Old Cellar. Then she bowed over and whispered in Trombone's ear. 'Don't be tellin' that cunt anything of a consequence!' Gonzo snapped, sorta raging now she'd trust a metal nicker with anything he prized on dem der Russians. 'Don't be a mean bollox! Ferka's me good pal an' he doesn't have an easy go of it 'ere'. He looked at Ferka who was by now grinding his teeth, some of 'em small wallets of gold. Gonzo wondered if he picked this patch deliberately cos it looked out onto the towering stainless steel spire stuck in the Vena cava of O'Connell Street. 'Him and his crew are probably going to melt dat fuckin' thing down and live off de pickings for the next forty years and you won't see him for angel dust!' Gonzo told her, taking another glug. Metal was big business for his lot and they seemed to be spreading across Europe melting whole cities and trapping as much heat as possible. 'Youza faggot fucker!' Ferka roared, punching him in the crotch with his trombone. 'I'll bash de fucking granny outta ye with dat poxy yoke!' Gonzo said, lunging at Ferka, crushing Widearse Wendy in the push forward. She started roaring and banging at the window: 'Stop, will yez fuckin' stop dis!'
Two security guards ran out of the shop to see what was going on. Big black blokes in fiend blue, large dangly batons, torches on their belts, fortified faces, boulder braces mineral ore. 'If it isn't the all-important rent-a-cops!' Gonzo quipped, still gripping Ferka's greasy swab of hair. 'Dis fucker needs to know his place, but it's nothing to do with youse, no trouble here.' Widearse was beside herself, leaping about like Marlin. 'He's not bashin' my mate's head in, he's not!' she told the taller security brawn, smashing Ferka from Gonzo's grip. 'They're both having a go for no bleedin' reason,' she wailed, deep now in her tiny grief of fly speck and goose egg, big fat smelly daddy raging up into life to bang her head off the rusty washing machine one more time in the small Cabra garden. Rolling around she was – from Marlin of the Seas off Cotez to a cuntarse cement mixer in an industrial sandpit on the outskirts of a Cappagh horse camp – too drunk to see what was really going on.
'Get out of this doorway now! Our customers do not appreciate this!' Ruby eyes looked like he'd seen his fair share of gang rape and coercive migration. He was pointing his liverwurst finger up the road where the curtains flailed in the wind outside Guineys'. 'Fuck off back to Bangurawopa or wherever it is that youse eat one another, fukksake,' Gonzo said, trying once more to kick one over at Ferka's head. Ferka had fear soldered onto his face: wankstain nomad from North India following the Bisto fart of Alexander the Great to fertile lands where they settled on roundabouts melting metal and washing scarves. 'It's in his trousers!' Ferka began to roar, 'He is up to no good that bastard!'
Wendy bundled up the street, her chondrite meteorite arse blocking out the sun. Ferka too, gone in search of iron seraphs. Arms grabbed Gonzo from behind, smashing him forward, bursting his face open on the pleated gravel below. Arms, maybe even more arms (the city seemed so full of them) reefing his jeans down. 'Fuck's sake, stop it, I ain't done nothing!' But still the voyeurs fanned in, mud-puddling butterflies to blood. Three, maybe four or more fingers…drilling turnin' twisting into his insides deep inside his trousers. Never crazed up pain like it. All the fists he ever knew in the big clench of years: priests, uncles, mad burds, the fat cat who owned the billboard company and beat the bollox out of him in front of faces outside Mass, nothin' was worse than the arms smashin' him up in this dirt-bucket of Dublin day. Blood, a lot of blood, that'd grow darker with the afternoon, if he ever managed to get out of it.
'Shut it or ye'll get it in the head,' one of the arms said.
An aulone in brown bandaged legs shouted, 'Bowsies, feckin' bowsies!'
There was no way he could explain this to Dessie and his Basement Bandits. Already he could see Carol's head mashed open; these cunts didn't mess about. Arms conked like a discarded doll in the playground up de flats, broken bottle rammed right up there for good measure. He was flung and rolled, rammed and kicked down the street into a side lane, where the bashing went on for barbed eternity.
'I'm fucked, I'm fucked!' Gonzo roared as he saw two teenage girls pointing, laughing.
Dilly no douse no dee, dilly no douse no douse no douse dilly no douse no deeeeeee.
'Yez 'av no idea, I'm a gonner!'
Did he tell Dessie & Skinner where the squat over the bank was? Was he boastin' about the gaff before they iglooed his arse? Carol would be back by now, pissing the mattress, eating a batter burger, waiting on Gonzo to come back with new gear. 'Yer nothin' but fuckin' trouble,' she'd say, 'useless prick like ye, and ye gave dem yer card?'
Ring stinger, so much so, he could barely toddle up Church Street. Now he knew how she felt the first time he gave it to her in the arse. He had to use HB ice-cream to cool her down after. A seagull played the bodhrán gliding up the street squawking about ham. Nothin' would ever be the same. These were serious heads. Dangerous heads. Mavericks. Think nothing of using shooters. Maybe they'd be OK just hidin' out in the bank for a while. Rest of Ireland was doing the same. Stay gizmo'd until he heard of them being popped. All of 'em uns ended up popped. Time & time again, saw it rolling. He wasn't going back inside either, leaving her to her own devices.
The city tipped down in a duck beak towards the Garden of Remembrance, rain scattering Swarovski beads on the path as he plonked along. He thought of Carol's fresh face at 18. Cement angels leaned chin forward from Georgian chimneys. Dogs of light barked down. He  didn't know if he was here already an hour ago. He didn't know where he'd end up or how he'd come down and if he was really here or half here an hour or more ago. 'I'm out of me bleedin' nugget!' he said. They'd have to lay still when he got back home, until a different kind of light shined. 'Come out of charity, come dance with me in Ireland,' that cunt Yeats said in the book under the mattress, but he didn't know jack shit about the skank or de Russians or fiddlers like Carol, all thumbs and kettledrums, sucking off ghosts at the window in The Old Bank on Doyle's Corner.

June Caldwell has an MA in Creative Writing from Queens' University Belfast and worked for 13 years as a journalist for the UK and Irish press. She published one non-fiction book about a terrorist's moll and was recently short-listed [twice!] for the RTÉ/Penguin Ireland Short Story Competition. Her fiction has been showcased at the Italo-Irish Literary Exchange in Verona/Italy, Bloomnibus @ The Irish Writers' Centre, and Over the Edge (Galway). She is a recipient of an Arts Council of Northern Ireland Bursary for Fiction.

–Background Art & Illustration by Zak Milofsky
–Photo Art of building by Sarah Hardy