American Wake
by Nuala Ní Chonchúir
The Missus has a mirror as big as a door in her bedroom. I am setting the fire, as I do every morning, when I glimpse this nark-faced yoke sneering at me from across the room. Who's that miserable strap? I wonder, thinking one of the other maids has snuck in. I look again. Of course it is myself.
'Merciful hour,' I say aloud, and stand up straight. It is amazing the way the face collapses when there isn't a soul to bear witness.
I go to the mirror; its big gold frame glints in the gaslight. I dawdle in front of it and stare at myself. The uniform the Missus makes us wear is lovely: white and grey with a little cap, stiff as meringue. But that's not what I see in her giant mirror. No, what I see is my Mammy looking back at me. As true as God the eyes that look into mine are hers and the sad stoop to the mouth is hers and, to be nothing but honest, I nearly die. I put my hand out and the ache of seeing her, but knowing it is not her, is brutal. My Mammy. My sweet, foostering Mam is three thousand miles away in Galway and I am in Manhattan, skivvying for a so-called lady.
I hear an olagón, a deep, keening cry, and it seems to come from far away but when I look into that glass again my mouth is twisted and the tears are walloping down my chest. I clap my hands over my gob to shove it all back inside myself.

The steamer I took across the sea was called The William Penn. A grand name for a grand boat. But I nearly went mad on it. They served us a grey slumgullion three times a day and half the passengers were wretched enough from that, not to mind the heaving waters and whatever aches they had brought with them.
But the worst of it was the morning a boy from Ballinasloe was found frozen to death on the deck. Four years old he was. A baby, by any measure. He was going to join his mother in Illinois and the mad old witch who was to get him safely to her, left him out of her sight. The whole night he lay on that deck with no one to hold him, or comfort him, or warm him. He died from the biting cold; his tiny body got soaked through and went rigid as a board. Maybe the poor craythur just gave up? It is a long voyage for anyone but, for such a little person, well, it must have seemed like there would be no end to it. His poor mother, waiting in Chicago, will wait forever for her boy.
I stare at myself once more in the mirror; I am paler than I was at home. The food here doesn't settle in my stomach and the ache of missing them all cuts into me. I am thinner now, a shade of the girl who tripped up and down Nun's Island with a different man on her arm each month.
But, in the heel of the reel, I am here now and what is to be done about it? I thought I would never get out of Galway, out of Connacht, out of Ireland. One by one my friends and schoolmates went before me: to New York, to Boston, to California. I went to their American Wakes and longed for the day I would have my own. My wake came and went: I danced my favourite hornpipe, I listened to the old people's advice and their wailing, and I felt happy, for I was in a mighty hurry to leave. But, now, I wonder, what was all that hurry about? Did I really need to leave all behind to empty the chamber pots, scrub floors and bake cakes for a house full of strangers?
My face is a shadow. My Mammy's features blur and slip out of focus. I put my hand to the glass and rub at it to try to conjure her again. And I am flattened by the truth of things: no more than the poor little maneen from Ballinasloe, I will never look into my Mammy's eyes again.

Nuala Ní Chonchúir was born in Dublin, Ireland, in 1970; she lives in East Galway. Her fourth short story collection Mother America was published by New Island in 2012. A chapbook of flash Of Dublin and Other Fictions was published in the US in late 2013 by Tower Press and Nuala's second novel The Closet of Savage Mementos appears spring 2014 from New Island. www.nualanichonchuir.com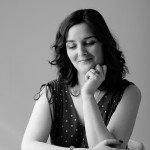 –Foreground Art by Lisa Griffin
–Background Art by Sarah Hardy