Vivarium by Sarah Kathryn Moore
Our body is not in space like things, it inhabits or haunts space.
—Maurice Merleau-Ponty, from "An Unpublished Text"
At the bathhouse (terrapin terrarium, beaked blinking people-turtles) matter-of-factly we are scoured with salt all over our body. Above the variously chilled or heated pools, the variously chilled or heated rooms are freakishly clean, their very freshness (salt, sand, charcoal, chilled stone) recalling exquisitely debauched pleasure, wine, meat, sugar, and semen, and blood. Nested in a warm room, coracle, an oracle—though in the baths the powdery-feeling metal railings are an off-note, awful to the fingernails, awful to the rings. (Lucky we wear no ring). We have the sense the rooms do not exist without our bodies in them giving shape and weight, and so when in them we feel big and friendly, like the founder of Glasgow, Saint Mungo (who died in his bath mid-January at the turn of the sixth century) or else like a Saint Bernard. Dear Mungo!—patron of the bullied, those accused of infidelity; patron of salmon. Blinking, half-blind from steam and lost contacts, we women coin-sized turtles in a bell jar, flushed unlucky orchids drooping, stalked, our bodies haunt the space men's shapes cannot. Scrubbed into submission, we successively are sluiced, and this is most disturbingly luxurious of all. To be cared for so perfunctorily!—as a car!—or the big dumb neighbor dog. Spirit of Mungo, returned as a naked limnologist, meet me at the cistern of mugwort water, next to the room of mugwort steam. Let's be newts by the water wall, let's be wet moss, glossed leaves, heat light, sunshine; like the miracles of Mungo (the bird that never flew—the tree that never grew—the bell that never rang—the fish that never swam) let's be impossible in our bodies, luxuriate, catch up with one another, flower, yes? Let's take up with each other. Let's take up space.

Sarah Kathryn Moore holds an MFA and a PhD from the University of Washington; her poems have appeared most recently in Animal, Pacifica Literary Review, Poetry Northwest, and Cutbank. Sarah Kate teaches literature and composition at the University of Washington and North Seattle College.
.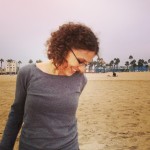 –Art by Menerva Tau
Best Nike Sneakers | Chuck 70 National Parks – Unisex by Converse Online , Ietp , Australia