Two Poems by Paul Tristram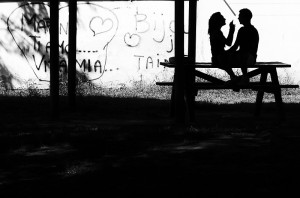 Taxidermy Bride
In the cobwebbed shadows
of his long hallway
he sat nervously waiting
upon the partially broken
bottom 3rd stair step.
A whistling excitement
stirred up the dusty leaves
of his delicate, ornate mind.
As he peered downwards
at the Taxidermist's card
beheld betwixt
his porcelain slender fingers.
And read quietly to himself
'your parcel will be
delivered both promptly
and exactly at one and a half
minutes after 6 o'clock
of the evening'
He gulped down wonder
and smiled deeply
with his eyes only.
As the Grandfather clock
not quite 4ft away
struck the 6th hour
and he heard the grind
and clatter of his garden gate
yawning open in the distance.
He rose, shakily
and walked towards
the front door,
each footfall a step further
away from Bachelor.

Tatting
You should see them all on Bin Night
coming down from that Council Estate
up on top of that hill over on Cheap-side.
Into the Town they come scavenging
like marauding packs of rats and hyenas.
Raiding the rubbish bags, wheelie-bins,
skips and refuse piles of respectable folk.
Drunk and singing as they blatantly do it,
with no shame or discretion in their antics.
It's become a barbarous weekly ritual,
I once saw a young couple copulating
upon a neighbours unwanted roadside sofa.
A group of middle-aged women brawling
over a mouldy old pair of velvet curtains
their men laughing and egging them on.
The Police turn up after the fun has begun
to arrest the usual suspects each week
under the 'Stealing By Finding' laws.
Yet, they had a Grandfather of seventy
in the local newspaper yesterday for finding
a copper boiler and he stood in the dock
and claimed that he was going to weigh it in
to help to pay off his last 'Tatting' fine.

Paul Tristram is a Welsh writer who has poems, short stories, sketches and photography published in many publications around the world, he yearns to tattoo porcelain bridesmaids instead of digging empty graves for innocence at midnight, this too may pass, yet.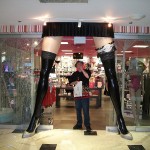 –Art by Mario Mencacci