Three Toronto Stories by Michael Lafontaine

Central Hotel, Toronto Ontario.
I arrived at the Central Hotel from Toronto Pearson International Airport just before midnight. The hotel was located near Chinatown. It looked like a shit-hole from the outside. I was tired as it was a long flight, almost twenty hours. I paid the cab driver and tipped him 30 percent. I always over tip that's just something I do. I took my bags and headed inside. The man at the front desk said that a single room was $120 a week or $200 with your own bathroom. I nodded my head and peeled off $200 and gave him the money. The man at the counter turned around in a manner that suggested he had done this many times before and lifted a key of a hook from a cork board and then handed it to me and mumbled the words fourth floor. The lift was not working so I took the stairs to my room on the fourth floor. On the way to my room I passed the communal bathrooms, they were unspeakably dirty – blood – shit and vomit was on the floor.
I entered my room and dropped my bags. I was glad that I spent a little more on a single room with a bathroom. I checked it and it was clean. I took a beer from the six-pack and opened it and took a long pull. I was glad I told the cab driver to stop at a liquor store. I walked over to the window and opened it. I stuck my head out and I was pleased to see the CN Tower in the distance. This room was probably the best in the whole place, the guy at the front desk probably thought he had pulled a fast one on a stupid tourist. $200 a week in the centre of town with a view a bathroom – shit – I would have paid $300.
My life, which was unbearable back home, now all of a sudden a plane ride later and here I was. I was free and independent and my life was my own again. I could do whatever I wanted. I could become one of them I thought looking down at the people walking on the street. I could become Canadian. I could change my name cultivate a Canadian accent and forget I was ever born elsewhere. I could marry a Canadian girl and gain citizenship and have my kids grow up Canadian. The possibilities were endless.
I sat there for the longest time just drinking beer and contemplating my new life and then sometime in the night I grew tired. The gentle rhythms of the Toronto Street below and the jet lag had finally taken hold of me. I fell into bed with my clothes on.
I lay on my back staring at the ceiling, thinking about what would happen to me tomorrow until I could not keep my eyes open any longer.

Little Pleasures
I usually loiter in Whole Foods Market for a while. I walk through every isle and just look at all the products. It amazes and comforts me. After I am dazzled enough with all the stuff there is to buy. I venture to the hot food bar and get a slice of cheese pizza and some black bean soup, then I go to liquor section and get a beer, usually by some local brewer and occasionally I get some Icelandic chocolate.
I pay for my food and walk to the tables upstairs to eat. It's so good I am here every single night. After I'm done eating I finish my beer and leave the store. I walk home every night past Avenue Rd and then Lowther Ave and onto St.George St. I try to memorize the names of the streets so that if a complete stranger comes up to me and asks for directions, instead of saying that I don't know I'm not from around here I could quite confidently say –
"Harbord St? Sure I know where that is, it runs through Little Italy."
Then I will go out of my way to direct them with hand gestures to where they need to go like I had been living in Toronto my whole life.

Second Cup
It was a frigid February morning at the end of an intense blizzard that covered all the homes of Toronto in snow. I dressed for warmth. I was nervous and excited to see Carly again, back when things excited me like that.
We were meeting for coffee in Parkdale. Instead of catching the tram I decided to walk. It was a long walk. I followed the tramlines down a steep hill past Little Portugal. It was a quiet walk as I avoided the main roads and as a consequence, as I walked I could hear the sound of the condensation coming from my mouth and the crunch of the snow under my steel capped boots made me smile.
Once I crossed into Queen St the people and the sounds and traffic made me aware of myself again. I had been walking for almost an hour. I opened the door to the Second Cup and I instantly saw Carly in the corner of the room nestled in the flesh of the couch reading a book. I removed my wool beanie and started walking towards her. I brought my hand up and quickly rearranged my hair with a couple of hasty strokes and that's when she looked up from her book and she smiled so sweetly at me. I will always remember that smile; I will remember that smile until the day I die. I walked over to her and reached down and gave her a kiss and she grabbed the back of my neck and returned the kiss and I swear my heart could have stopped then and I would have been happy.

Michael Lafontaine received his B.A and Masters Degree from Macquarie University, Sydney. He is the Editor-In-Chief of the literary journal Vending Machine Press. His stories have appeared in Word Riot, DOGZPLOT, Mad Swirl, and elsewhere. He currently lives in Newtown, Sydney and shares custody with his ex-girlfriend of a rescue dog named Lloyd. Find him online at mikelafontaine.net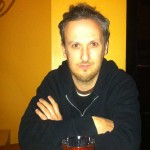 –Art by Jan Rockar
–Art by Plamen Stoev
–Art by Joel Hohner