Stupid Cow
by Rozz Lewis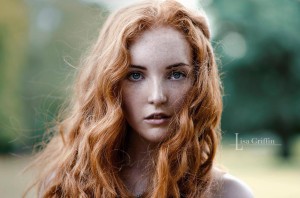 "So, the cows fancy you. That's what you're saying?" Adrian said.
"Just staying that they look at me, really look when I go past them in the evening."
Every morning, the cows would come up to the fence and line up. All would stick their necks over. Admiring me, they would follow my movement as I swung past on my way to school. Cows could recognise things. They'd be able to see beauty, I was sure.
"Right," he said.
He just couldn't realise the way I was and what we could be. Everyone knew it I was but he was the one I wanted to get it.
"After school, walk me up that way and you'll see,"
"Ok, laters,"
He had never agreed to walk me home before. This could be the time where I dazzled him.
I was out of it for the day, checking my mobile for home time and him. Walking home together was the next step, it was a big thing for us.
The field where the cows were was a good twenty minutes. The day gusted a warmth out. There was a readiness about the world.
The cows were up at the back of the field. This in itself was normal. I couldn't call them, that would prove nothing. I had to wait.
Good cows. On cue to my body coming up the road, they looked up. A disciplined line of cows began to lump over to us. I kept walking, twiddling my hair back.
"Here they are," I said.
"Cows are just curious creatures, I would think,"
"Wait, just wait,"
My eyes sent them pleads to do what they did every day. It rested all on them. They must have felt that as they started to line up, all but one who had not reached the fence. He was standing away from the herd, playing hard to get.
"Anyway, this is my house. Speak to you," he said, getting ready to cross the road. "Sorry, they didn't perform,"
"Wait, please," I pointed to the lone cow, she was speeding right up to where I was, her eyes keeping track of me.
Adrian stopped, he was starting to see things. I stood back, hands on hips, fixed stray hairs. The rest of the cows would follow now. It was coming true.
The lone cow reached the fence, swishing her tail off the other cows as she did. She turned, tail yanked up in the air, curve like. I knew what was coming, I started to walk on but she  had started and wanted to finish.
At first, a plop and then a full shoot of shit landed out onto the grass, some splashing onto her friends. She expelled all that might have been there and turned, sniffing back at it. The rest of the cows moved towards the heap on the grass and sniffed too.
"They're only cows, don't expect too much from them. Simple creatures. Stupid cows,"
The smell stayed with me to the top of my estate, I turned the music up high until it overloaded me.

Rozz Lewis is a primary school teacher living in Carlow, Ireland. She runs a literary blog at rozz.ie and is a member of the Carlow Writers Group. Her stories have been published in the group anthology What Champagne Was Like and Wordlegs "Post Celtic Tiger" special issue magazine in 2013. She was shortlisted for the New Planet Cabaret on RTE Radio 1 and long listed for Fish Flash Fiction and Short Story Publishing Prize 2013.  She is currently working on a group anthology in conjunction with Carlow Libraries, KCLR FM and John Mac Kenna, playwright.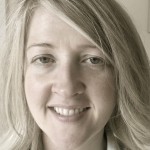 –Foreground Art by Lisa Griffin
–Background Art by Sarah Hardy