Star Side Down by Nathaniel Sverlow
I received a new ink ribbon
in the mail
It was wrapped in plastic
with a label that read:
PROUDLY MADE IN THE USA
WE ARE US COMBAT VETERAN OWNED AND
OPERATED. THIS SPOOL HAS AN
EXPANDING CENTER CORE TO FIT
ALMOST ANY SPINDLE. INSERT
"STAR" SIDE DOWN IN SPOOL CUPS.
PROUDLY MADE IN THE USA…
(the last bit being cut
through the middle)
And I felt proud loading it
like a soldier
hugging dirt
facing death
with a shit-eating grin
Though the spools were misshapen
poorly raveled
and only one "STAR" could be down
for the damn thing to work
at all
but the label was enough
to feel good about the purchase
my fifteen dollars being another
breakfast
bottle of wine
or blackjack bet
for our brothers and sisters
in arms
Hell,
it's the least I can do

Nathaniel Sverlow is a freelance writer of poetry and prose. He was born in 1983 in San Diego, California and has since spent most of his time hunched over a laptop randomly pressing keys. He currently resides in the Sacramento area with three cats and one incredibly supportive wife. His previous publishing credits include Typehouse Literary Magazine, Map Literary, Marathon Literary Review, Defenestration, and Black Fox Literary Magazine.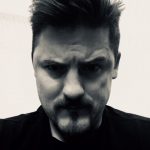 –Art by Piotr Kaczmarek