Scented Handkerchief by Samuel J Adams
People used to carry scented handkerchiefs for reasons of greater magnitude than sneezing. They wielded them like palliatives, stress-relivers. The way a person, bored or anxious, might now take up her phone and watch heartening videos from favorite feeds, a person of 1914 might, after missing a train or a quadrille, bring a scented handkerchief to her nose, inhale, and think: my word, how ardently I've needed the smell of something good.
How nice it would've been to swish away bad feelings with lupin, lavender, and the fatty warmth of ambergris.
But I lack the nerve to renew such trends.

Samuel J Adams is an MFA candidate in fiction at Bowling Green State University. His fiction appears in Spork Press, BULL, Beecher's, and New World Writing. He was born in Tokyo, Japan.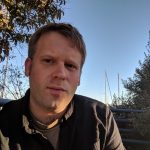 –Art by Piotr Kaczmarek