Room 6: A Gallery of Thirsts by Peter Marra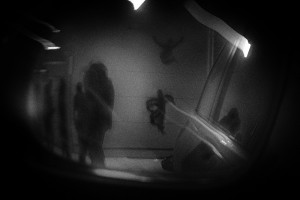 Persephone opened the slick
magazine. shiny photos. shiny photos
of copulation relaxed her frantic
heart. the palpitations were arrested and a warm shroud
enveloped her brain. junk pussy/cock hallucinations in a
film noir entered between her legs
she drooled as the victims passed by
a soft mesh existed between her sex organs and the window
and she couldn't stop what was happening
and she couldn't stop what would happen
and she could never stop what had happened
as she flung a pomegranate at the window
just to see glass crack
she was expert at providing sexual services
inappropriate behavior defined by death sentences
let's operate illegally
prostitutes are at liberty to pray
he was decapitated as he dressed
craving the early phases of her body
it was used very well for the price.
for everything else
the punishment shall be a form of the body in vapor
how badly do you want to live?
a facial denial
a blossom crashed / a slice
for reasons explained in a public spanking
on the hostesses' meat machines
it was the cue to begin an explicit sex scene
as they shed their tails,
grinning from beneath her lashes
it began by simply mouthing, ending with pounding contractions
behind an oscillating red wall
fingers were removed because
of the deformities of the digits
she threw out her self-portraits and
luxuriated with the interviews of traumatic amputees
Persephone opened the slick
magazine of blank pages

A native New Yorker, Peter continues to reside in New York City.
His earliest recollection of the writing process is, as a 1st grader, creating a children's book with illustrations. The only memory he has of this project is a page that contained a crayon drawing of an airplane caught in a storm. The caption read: "The people are on a plane. It is going to crash. They are very scared." A Dadaist and Surrealist, Peter Marra's writings explore alienation, addiction, love, secrets, and obsessions. He has had over 200 poems published either in print or online in over 25 journals. Peter's latest published work is
approximate lovers (downtown materialaktion) published by Bone Orchard  Press:
(http://boneorchardpress.blogspot.com/2014/04/approximate-lovers-downtown.html)
Peter's e-chapbook Sins of the Go-Go Girls, was published in 2013 by Why Vandalism? Press:
http://journal.whyvandalism.com/sins-of-the-go-go-girls.html
peep-o-rama available as a Kindle Edition at Amazon:
http://www.amazon.com/Peep-O-Rama-Peter…/dp/B00GVM4QQU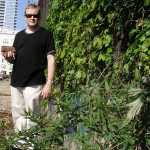 –Art by Mario Mencacci