"Picasso I can help you" by Philip Berry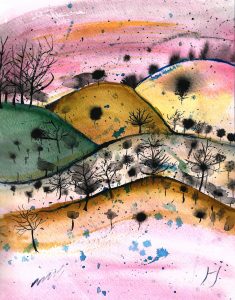 I see the bold line, perfectly judged, black bordering a field of lilac. Forming a torso that narrows and expands into hips that are generous, heavy and typical. I am attracted to the black band. It is full of you.
Along one edge the paint is heaped, a lunar range, flattening out through foothills of pigment until it meets the pastel plain. Where the line turns, your hand twists and the grain changes. If I were to run a finger along it, I would feel the height, the fixed legacy of each brush hair. The confidence.
My eyes linger where the two colours meet. They do not merge. You were quick, but you were sure. Were you alone? Was Olga upstairs, offended by the figure's likeness to your lover, Marie-Thérèse? Did you care? I care. I understand. I can help. To help you I must be with you. I will tell you what you need to know. Next year Marie-Thérèse will have a child, and Olga will leave you. Then war. The end of colour.
I reach forward and touch the black line. The paint has been drying for over eighty years, but there is life in it still, and that is where I must find you. I press the point of the blade where the paint is thickest. The canvas bows, then gives. It takes the full width of steel. I pull down, slowly, soundlessly, entering the field of lilac (skin, dress, I am not sure). The rent widens, curves, falls open. The picture is divided. I glimpse the black line's cross-section. Layers. Corrections. Hesitations. For a moment, I stand with you in the studio.
Then I am taken.

Philip Berry's short fiction has appeared in Spelk, Liars' League, Ellipsiszine and Hypnopomp. His collection of science fiction stories, Bonewhite Light, was released in 2017. He lives in London.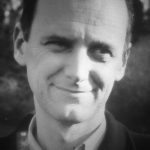 –Art by Chelsea Sturgill