On the House by M.C. St. John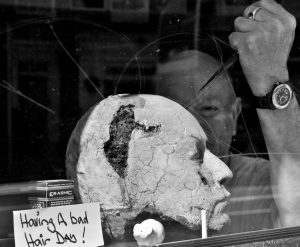 "Do you want coffee?"
"Love some."
The receptionist went to make it as
I waited for my haircut appointment.
Their coffee was complimentary
and it was nine in the morning
so why not?
It came in a trendy glass mug
and between sips I watched
different colored cars blip by
on Milwaukee Avenue.
The lady who cut my hair was late.
When she arrived I didn't complain.
(the barber-client relationship in the city
is tenuous at best. Like anything, I wanted
to hold on to someone good.)
As she clipped my hair, she apologized. "The line
at Starbucks was out the door. Rush hour."
"You a tea drinker?"
"No. Just plain coffee."
She turned on her electric razor and started
in on my neck. She held my head. I contemplated
the counter in front of me that had my half-empty
mug and her white to-go cup
next to each other.
The cut was good as usual. We shook hands
and I went back to the front desk to pay.
The mug came with me.
The receptionist rang me up, and since no one
was around, she leaned in and whispered,
"What do you think of the coffee?"
"It's coffee."
"Everyone here hates it."
"Why don't you get different coffee? There's a Starbucks
down the street it seems."
She shook her head. "The manager here is friends
with a coffee roaster. We get pounds and pounds
of the stuff for free. The manager can't pass up
a deal like that."
"Even if none of the employees drink it?"
"I don't want to be the one to upset the manager."
Next to her was a white to-go cup, and the other
other barbers and stylists had theirs too. I was
the only one who was having it complimentary.
The trendy mugs were glass, I figured, so everyone
could see how much hemlock the customers drank.
It wasn't a good business model, if you asked me.
Or a way to live.
I left a tip for good service, and I'm still not sure
why.

M.C. St. John is a Chicago writer. His work has been published in After Hours Press, Aphelion, Chicago Literati, Ink in Thirds, Literary Orphans, Maudlin House, Quail Bell Magazine, Transmundane Press, Word Branch, Unbroken Journal, and Vignette Review. His short story collection Other Music was recently published, and he is working on his second.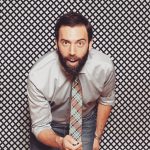 –Art by Piotr Kaczmarek