The National Suicide Hotline Changed Their Number To My Number
by Hannah Rucker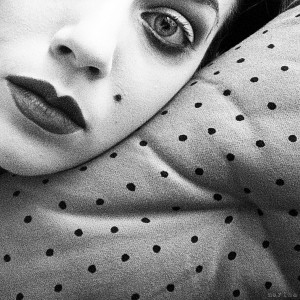 "hey"
He was planning to kill himself.
Texting back, was probably the right thing to do,
none of my friends ever text me "hey"
I know it is a bad sign when
I open my eyes
to my phone vibrating next to my face
the wrinkles in the sheets
uncrease to release whispers
right after I decided
I was going to go to bed early that night.
I got a message from a friend that I
had not talked to in two months.
In the past six months this is the third
close but distant acquaintance that has called out
to me to help them get through a "rough spot"
they are, far away in LA
they are, too unstable to be welcome in my home
they are, an old high school friend, now living in an unknown location.
Why do they sit in their dark states
and pick me to help?
Why do their fears creep in through the cracks
under my door
and find their way to send a draft of
cold wind against my cheeks.
I have been to the darker side of
reality
I know there isn't really
a moon.
But I know only a fraction of what they
have all been through, and I do not understand why
these people who are not my close friends
choose me to weigh in on their troubles.
These problems linger, they
find their way through my door and under my pillow
slip into my phone and release in one simple syllable
"hey"
My mind will race for a good three minutes
thinking of the what ifs, what were, and what are
I don't know where they are
how drunk they are
are they outside my window?
I check
before I think to even text back
I whisper my words
my forehead now cold
pressed against the glass
looking for zombies lurching
towards my suicide salvage
my thoughts keep smashing up against
the worries that sting my toes
cold ceramic tiles I tip toe on trying not to wake
the heavy monster of grief that hides himself
in my shallow closet
but I know that if I do not respond
and something happens
the weight
will sink in my heart forever
so I slip back into my sheets
warm my cold toes
and try not to think of the heaviness that will arise
if I mess up—
or say the wrong thing.
So I respond, dance around words
and cold breaths my counselor
told me to tell the first friend who came to me
with this struggle.
I have a routine, a way where I know I've said
all that I could
and done
all that I could
and that
whatever happens at the end of it
after I've given up all this time and my heart
wretches as I know this person has thought
to come to me and I am failing them
probably
hopefully not.
I am the new suicidal hotline for acquaintance that I once thought
forgot about me. Something about
the way my curtains catch the wind
from the north when my windows are open
or maybe how I howl at broken hearts
in my sleep
cooing them to a still silence
I want to tell them that
I'm not strong enough to handle these
midnight requests of human compassion
but I will never do that.
"Hey" I say,
"it's alright."

Growing up Hannah had a love for reading and writing poetry. After recently helping her mom move from her childhood home, Hannah stumbled upon a notebook that contained the first poem she ever wrote (roughly around age six): first puppy/ then puppy/ next puppy/ last puppy. As genius and inspiring as that is, it has been uphill from there. She is a recent graduate from Champlain College where she received a BFA in filmmaking, and one day hopes to combine her two passions of filmmaking and poetry into one medium.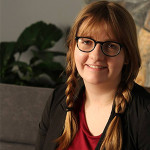 –Art by Marina Ćorić