Marina Ćorić – Artist Profile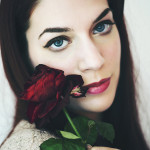 Marina Ćorić art hits you out of time. Her photography jumps from haunting to vibrant and lush; dark to lust.
Based in Zadar, Croatia; Marina is a young artist you'll want to keep track of. While she is currently studying painting, she continues to work on her photography as well. Indeed, there is a certain classic feel to many of her portrait photographs, where we begin to explore the shape and form through here very unique eyes. It's almost as if she paints with light and shadow, juxtaposing the light and dark found in the setting and imprinted on the subject's faces.
Our photographic journey through Marina's wonderful portfolio takes us to the surreal of the everyday life; from the woman in the shadows of a lace curtain, to the arms reaching out behind bright white doors, to the faces we only see in mirrors–her work conjures up the image of a dark a beautiful world. Perhaps the only thing more exciting than this is the direction she seems to be headed in; her latest work is crisp and is starting to incorporate color in a very striking, yet vintage way. We can't wait to see what 2014 holds for her!
–
–

Our great thanks to Marina for  both her patience in working with us, and allowing us to feature her amazing work–so much of it you will find here. But this is only a small part of her greater portfolio–be sure to check out her Facebook photography website and give it a like!  Now.  Do it now–you won't regret it. Also check her out on deviantART, where she posts under the user Stardust Splendor. I highly recommend paying her a visit there if you have an account, for there you can see some of her 'mature' rated content that is striking and beautiful.
Please be sure to check out the interview Marina did with Literary Orphans, to get a glimpse into this sharp creative mind!
Authentic Sneakers | nike mercurial superfly green size 7 shoes europe Magic Mushroom , Where To Buy , DH7650-600 , Ietp