Too Much Oxygen by Robert Vaughan
I played tuba in 7th grade. It was by default, none of the other brass players would switch. The tuba was huge, a lot to carry on/off a bus, and forget about placing it overhead. We didn't have overheads anyhow, this was the 70s. The Waltons. Gas lines. Leisure Suits. That was the summer I was raped.
Tuba was familiar, had the same exact fingering as the trumpet valves, which I'd started in grade school. Mom wouldn't let me practice in the house, said it rattled our screen windows. I'd sit on our back patio blowing bass notes toward our cow pasture.Occasionally they'd stare at me, chewing their cud. Probably wonders when will he stop making that awful racket. I like cows. They're peaceful.
Strangers stopping at our fruit and vegetable stand would get an earful while they looked for a ripe cucumber. That year the word "stranger" upped a notch. Maybe two.
In 8th grade, I switched to baritone horn. Again, the fingering was familiar, and blowing that tuba was making me pass out. Too much oxygen. Our band leader, Mr. Marks said, "We'll have to do something about that!"
When he placed his hand on my shoulder, I flinched.

Robert Vaughan is the author of three collections of poetry: Microtones (2012); Diptychs + Triptychs + Lipsticks + Dipshits (2013); and Addicts & Basements (2014). He also edited Flash Fiction Fridays (2011) and is senior editor at JMWW and Lost in Thought magazine. His awards include Micro-Fiction (2012), and Gertrude Stein Awards (2013, 2014). He leads roundtables at Red Oak Writing in Milwaukee, WI.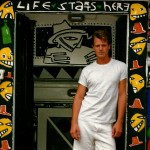 –Art by Karamelo
–Art by Mariya Petrova-Existencia