Lust Plays Itself Out In Our Own Backyard by Peter Marra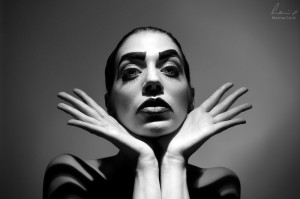 now, itself voided:
she hates the light
just loves the barbed spike
that way it pierces then clings on the pullback
the red blossom of the boot
make her pay for america
when reincarnated, she gave me a kiss
(don't make me fade)
7 years before, in autumn:
thank her for a conscience that re-experiences
painful replacements
want you. to look. want to learn.
(she said slowly)
libido could produce neuroses in the bourgeois
(she said slowly)
itself, in summer:
laying on the floor excited
thousands wanting to meet your
infomercial depicting torture gardens
that area where the death by 1000 cuts occurred
finessed to death by orgasm followed by
orgasm yet again
she smiled. her tight black silk gown moistened by her fluids
as she continued her tales
stories of what she felt between her legs and how
she would punish him for eliciting her fears
making them become flesh
look between my thighs she said
i harbor the missing pieces secreted deep inside
it's all pretend. a mirror cracked.
friction, in winter:
see any part of her as
a charming toy
send me sex she demanded
as proof that it happened organically
followed her hard
a perfect find
a natural chemistry
get herself off fast
don't re-experience painful or traumatic episodes
just the things from a void
character assassination and
annihilation of moral guidelines
u.s. food fuck and forth from one side
was given around the room
pussy with a hot liquid
pain, in gentle spring:
dissolve a conception of her mind in her body
being completely worn out
clitoris now left, an insulated belly.
slowly the vagina welcomed it
lips fluttered. a confrontation
she contemplated this position
it can be used to ease
or be used to fuck
she wasn't sure
still sealed off
opening his mouth wide
to receive fluid
pre-cum that dripped from orgone accumulators
(parental figures)
sphere of the life function
death of a
whorehouse
retake dripping
she grinned
as she recycled her victims
to make the past return as
an old friend
to serve to the masses

This is an excerpt from  approximate lovers by Bone Orchard Press.
Orig­i­nally from Gravesend Brook­lyn, Peter Marra lived in the East Vil­lage, New York from 1979 to 1993 at the height of the punk / no wave / art and music rebel­lion.  Peter has had a life­long fas­ci­na­tion with Sur­re­al­ism and Dadaism, he also cites Roger Cor­man and Russ Meyer as influences.
His ear­li­est rec­ol­lec­tion of the writ­ing process is, as a 1st grader, cre­at­ing a children's book with illus­tra­tions. The only mem­ory he has of this project is a page that con­tained a crayon draw­ing of an air­plane, caught in a storm. The cap­tion read: "The peo­ple are on a plane. It is going to crash. They are very scared."
Peter's writ­ing explores alien­ation, addic­tion, love, lust, the havoc that secrets can wreak, and obses­sions, often recounted in an oneiric filmic haze with a taste of the grind­house. He wishes to find new meth­ods of descrip­tion and lan­guage manipulation.
Peter has had approx­i­mately 200 poems pub­lished in print or online in jour­nals such as Caper Lit­er­ary Jour­nal, Danse Macabre, Main­tenant 4 and 5, Yes, Poetry, Lit­er­ary Orphans, The Car­nage Con­ser­va­tory, Car­cino­genic, Cal­liope Nerve, Unlikely Sto­ries and Why Van­dal­ism? He has work in all 3 of the Have a NYC short story anthologies from Three Rooms Press.
Peter has had the following chapbooks published: the ebooks Sins of the Go-Go Girls by Why Van­dal­ism? Press,  peep-o-rama by Hammer and Anvil Press (available at Amazon.com), and the recent print publication approximate lovers by Bone Orchard Press.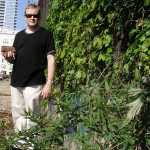 –Art by Marina Ćorić