A List of Questions for My Grandmother by Jennifer Kircher Carr
During your marriage, how many times, approximately, did grandfather tell you he loved you?
How many times did he say it with flowers?
If it was fewer than ten, how can you be sure?
Do you lie awake now that he's gone, and imagine him whispering it?
When you imagine him, is he young or old?
When he whispers, do you hear his German accent?
Or does it matter more to have someone to help you in the car, someone to pick up bread?
Is it more important, in a life lived out, to have whispers or bread?
When you cry, is it because you miss the family you left behind in Minnesota?
Or is it that you regret the way that your life unfolded?
How can you regret the major decisions without regretting the life?
Who would you have married if you hadn't married him?
As a young woman, did you enjoy his pinstriped suits, the dinners at the German Hall?
Were you glad that he didn't know how to farm?
Did this make your parents distrust him?
And you?
What were your exact thoughts the day you boarded the bus, heading to where he told you "his" blacksmith shop was?
What were your exact thoughts when there he was, covered in soot?
When he told his partner he was taking the rest of the day off, and went to clean up?
What do you think his exact thoughts were when he saw his fiancé standing there in his shop,
seeing so she could believe?
Do you think, as he washed his face that day, he wondered how different they all are – these things that we need?
Do you think that leaving a mother, a country, at seventeen changes a boy?
Is it the same as leaving Minnesota?
Why did he love America?
Why did he love you?
Was his love, on the birth of your first child, the kind that swoops up and steals breath,
buckling knees?
Did you have sex before marriage?
If you weren't Catholic, would you admit it?
Why was sleeping with this immigrant blacksmith more important than Catholic vows?
What else might you have done if you had known then you'd get Polio?
Can you regret something like Polio?
In the hospital at thirty-two, with three small children at home, did you have a vision of death?
Did you imagine the string of small pleasures and regrets that tie together a life?
Did you imagine you'd outlive your husband?
Do you miss his tomato plants?
What, exactly, where your thoughts when he came to the hospital door each evening?
Toward the other women in the ward whose husbands didn't come, did you feel guilty or proud?
Did you, once, imagine his fear?
If you could do it all over again, would you learn to speak German?
Would you make sure he gets back to visit, before his mother dies?
Would you go with him?
Or would you stay in Minnesota?
Besides your Polio, what was the worst tragedy of your life?
Did you ever once say screw it, I'm not going to be sad anymore?
When he taught you to walk again, after the Polio, by belting your waist to his, and walking backwards with your feet on his, did it feel like dancing?
Was there a moment you thought: My life?
Did you cry or thank him as you laced your arms around his neck, grasping your dead hand with the good one?
What was he thinking as he hoisted your stiffened body onto his feet, and forced movement into your limbs?
If you could choose to have back any one thing, what would it be?
Why do you pause?

Jennifer Kircher Carr is a short story writer living in western New York. Her fiction has been published in numerous literary journals, including the North American Review, Prairie Schooner, Alaska Quarterly, and The Nebraska Review, where she also won the Fiction Prize. Her non-fiction has been published in Poets & Writers, Ploughshares blog, and Edible Finger Lakes, among others. She recently co-founded Wordtango.com – a website for writers, by writers. Follow her on Twitter.
.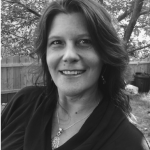 –Art by Menerva Tau