Gay Degani Reviews 'The Heart Crossways' by James Claffey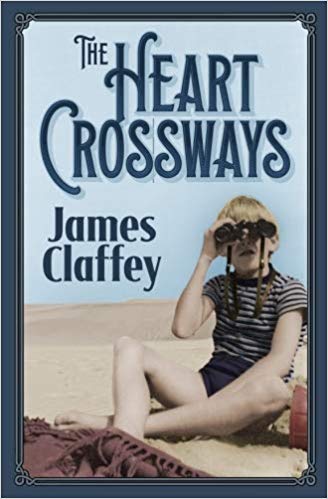 So vibrantly Irish is The Heart Crossways (Thrice Publishing, September 2018) that reading it is like sitting down with author James Claffey himself in a "terraced, red-brick Victorian," in Dublin, "the kettle on the hob," and listening to him tell a story of youth in the old sod. Written in present tense, this novel has a strong sense of immediacy as well as language that works on many levels.
First, there is Claffey's lyric use of words including lovely Irish-tinged descriptions: "The mist rolls in off the Atlantic and flowers the area in gray moisture" and "The bleeding heart of Jesus dangles over their bed and the light from outside washes over the eiderdown."
The author's use of dialect and specific detail not only creates visual clues to the physical and emotional worlds of the youthful main character, Patrick Brogan, but assuredly builds the arc of the story: "In the kitchen, Mam is trembling. I run upstairs to get away from the yelling. His [Da's] anger is the color of bruises—the color of winter skies. When the house quiets as he heads out to the pub I venture downstairs."  This paragraph illustrates Claffey's use of well-chosen words to illustrate the Brogan household and foreshadows events to follow. 
The characters are consistent, each slowly built, yet inevitably revealing who they are: Da, the oil rig worker in the icy North Sea, and when home, slipping out for nip, buying a chicken instead of a turkey, and Mam with her ever present veil of smoke doing her duty toward husband, son, and Granny, telling Da he's "good for bloody nothing."  Young Patrick is the most complex character. He loves reading and nature, wants to learn how to play chess, has a deep sense of adventure, and a vivid imagination. He's also mischievous, breaking into an old house, stealing from his aunt and uncle, sneaking money out of purses, and more. He fears his Da, the Old Man, yet longs for the kind of relationship he sees between other boys and their fathers.  Claffey sustains consistent portraits of his characters by setting up, but not revealing, what's in store for them.  
The story of Patrick Brogan is deceptively simple, with its Tom Sawyer flavor of mischievous youth, yet it reveals the culture of one society while exploring the universal truths of many families: their needs, their wants, their flaws, their triumphs. 
Buy The Heart Crossways on Amazon
–Background Art by Chelsea Sturgill