"Flames gnaw into her marrow hour by hour raving she wanders" by Julia Tranchina
Flames gnaw into her marrow hour by hour raving she wanders.
A memory is only as good as your last retrieval of it. I walked home from school to an empty house; one overcast Wednesday, the back window was broken and the contents of both mine and my parent's bedrooms were scattered throughout the house. Southwest pullback plane. Gonna hurt some child child, gonna hurt some, whoa my baby. Did Pete cry? Goodness no! he kept walking along and singing his song. O you whom I often and silently come where you are, that I may be with you. Aviophobia or fear of flying. She prayed then to whatever power may care. They won't remember you and what not. It is wise to disclose what cannot be concealed. Joey Heatherton dances the Hullabaloo. There is a gap between what I want to say and what I can say. Adhesiveness was later used as gay-code for same-sex affection. I'm glad they won't remem—. The wheels on the bus go round and round. It looks peculiar. Vastness and uncertainty. 1 in 4 Americans thinks the sun goes around the earth. Whitman got his head read. The plane skidded across the snow for 558 feet. There were just no solutions that worked for all the moving parts in this equation. Claustrophobia or fear of confined spaces. Others who look back on me because I look forward to them. She walked each morning from her apartment to our house, on this day she called my mother to say she felt peculiar. The best thing about Google glass is the ability to rewind life, it's live life. The hippocampus doesn't mind putting together two new things. Visitor Guidelines for Personal Belongings. Tendency to cast the poet as guardian to the truth. IWSHIWR What is it then between us? Women may propose marriage only during a leap year. Raising hope in her anxious mind, and weakening her sense of shame. All I see is you. Measurements of the skull. As long as I can hear your words I'm certain of some sort of clarity. According to our records the couple registered with the State of California as domestic partners on February 14th, 2002, which was not a leap year.  As each day goes by it becomes harder to bring her face into mind. It takes nine days for a heart to soften. It was the darkening hour when the remarks made had a sad and beautiful sound although there would be nothing sad or beautiful about the meanings of the words. By nourishing themselves exclusively on sweets. Crying gets the sad out of your eye. WHO is now reading this? Rexing or competitive roller skating to dance music featured repetitive leg-scissoring movement. Fear of Flying Clinic-SFO-SEA-SFO: I realized that I had never before watched a plane being repaired on the tarmac nor had I been trapped in an aircraft waiting for a free terminal gate. Preserve me from bitterness of spirit, and rescue me from every temptation to despair. What is loss like, what is loss like this like, what is loss like, what is loss like this like. Sparkle, Shirley, sparkle. A week later, our son and daughter had the urge to label, then inventory themselves and all things around them. Spatial disorientation. Who watches over lovers bound by unequal passion? Items which will be allowed only when utilized for their intended purposes: wheelchairs, rollator walker devices and fold-up bicycles.  Amy Winehouse asks, "What kind of fuckery is this?" over talk of rexing and dogs in remission. My mother appeared, wholly apparent, particularly her eyes. Troubled, vulnerable often neurotic.  Hope everything about your day's so warm and so appealing it leaves you with the nicest and centered kind of feeling. Her world seemed layered in three different parts. They mirror your face. Afternoons made them sad and they called out mama mom mom mama over and over even though we stood before them. The brain is made up of 27 individual organs which determine personality. I drank my Rob Roy quickly, and spoke to a blonde who dislikes me; I predict she and her bald husband (he with the Jack Haley eyes) will be living in San Diego by the summer. The brain edits, updating the past with new information. Or may-be a stranger is reading this who has secretly loved me. Observe, document, judge, satirize. Here is a word, here is a thing, here is a word shooting arrows of love; snog.

Julia Tranchina is currently working on a series of 27 language poems. Her fiction has also appeared in Barrelhouse, Monkeybicycle and CellStories. She lives with her wife and two-year-old twins in San Jose, California.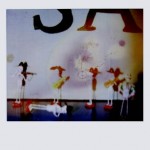 –Art by Mario Mencacci