FishBar by Christina Berke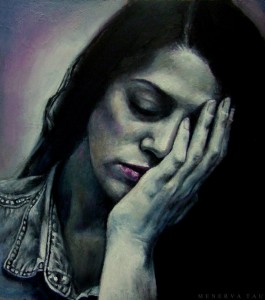 It's my third day of sobriety, and I walk to the restaurant, bored and alone. When the hostess asks, "How many are in your party?" I say, "Just me." She tells me to have a seat at the bar. It doesn't look very busy, and I want to ask her if I can sit at a table, but I don't want her to look at me any more than she is.
The restaurant is made to look like the inside of a ship. There is thick rope hung along the ceiling and pieces of artificial coral peaking out of corner booths. The chairs are ship-wreck chic, a little too precise, like a brand new dress that's made to look vintage, instead of my grandmother's dress from when she was twenty years old. Flat screen televisions line every inch of wall space, different channels competing for an audience's attention, cutting to football highlights, cooking shows, and breaking news.
I sit at the bar and read the lunch menu. It's Lobster Thursday, so when the bartender comes over and puts a napkin in front of me, I ask if the lobster is any good. He is as tall as I am sitting down and really muscular, the kind of muscles that I don't like. They make him look uncomfortable, like his pecs would choke his neck when he laid down. I imagine his penis is short and stubby, just like a guy's I used to date.
"Freshest lobster you'll ever taste," he says as if he is the one who actually caught it in the morning.
"And does it come with that butter sauce?" I know it does but I want to keep my mind focused on something other than that last page of drinks, or the wine menu, or the bottles behind him.
"I'll give you an extra cup," he says.
"Thanks. And the sides? Can I get corn and mashed potatoes?"
"Sure thing. And to drink?" He wipes the counter even though I am the only one at the bar. He looks like I am keeping him from something.
"How is the corn prepared?"
"It's boiled."
"And the potatoes? Do you guys use whole milk? Or butter?" I ask because it sounds like something someone normal would ask about, like the people who get cold pressed juice in the morning and go to hot yoga on their lunch break and ride their bike to work.
"I'm not sure. Probably butter. You want me to check for you?"
"No, that's okay. That's what I want."
"I'll put that in for you. We're having a Mai Tai special, two for $7."
"Water's good."
"You sure? Look, you're at a bar in the middle of the day. You should be out in the sun at the beach, not here in your sweats. If you're stuck in here with me, might as well live a little."
"This is a lounge set from Saks. And I just had a hectic week at work, so I'm celebrating." I pinch my diamond stud earrings to make sure the back is secure. I hope he notices how pretty I am. My face always gets really puffy when I'm on a bender, but with a few days behind me, I should be looking somewhat decent again.
"I get it." He scuttles back into the kitchen and I am left alone to stare at all of those bottles, blue and clear and stout and skinny. I feel my throat tighten in anticipation. My saliva is thick and hard to swallow. The bartender comes back out and places a water in front of me. And a Mai Tai.
"Figured a pretty girl like you could use a little pick-me-up," he says.
"Oh, that's really nice of you. But it's not five o'clock yet," I say.
He points to the wooden sign above the bar that has a picture of a clock, a coconut, and the words IT'S FIVE O'CLOCK SOMEWHERE! etched into it. "Enjoy!" he says.
I couldn't not look at the drink in front of me. I had only three days this time around, so it's not like I am throwing away something significant. Tomorrow, tomorrow. It's silly of me to start so close to the weekend. And it would be rude to decline a free drink. I let go. I relax. I put the straw into my mouth and feel its cool, smooth flavors glide down my throat. I breathe it in and feel my whole body release. My mind is peaceful. It is like embracing an old friend, stable and reassuring. The bartender places the food I ordered in front of me. He notices the drink almost gone, nothing left but ice sweat and a watery pink liquid.
"Well, see. Everyone loves a good drink," he says.
"I was just really thirsty."
"Fine by me. Glad you're enjoying yourself." I hear the scrape of ice against the metal scooper and the tinkling of the cubes dropping into a clean glass. I watch as he pours the bright liquids quickly in, one after another.
I bite into the lobster and shove in the corn and mashed potatoes, creating a mush of foods like some Thanksgiving leftover plate. I barely chew. I hope it will absorb the alcohol. I realize I haven't eaten anything all day, but I know if I get something in my system, I can still salvage the rest of my day. "Call before the sip," my sponsor always tells me. "Pick up that phone."
I get up from the bar stool and head into the bathroom. The one wood-paneled wall and burgundy wallpaper clash with the blue stall dividers and I wonder if anyone set out to design this, or if it was just slopped together. The counter has seashells in little jars and a small plate of potpourri which I don't think anyone uses anymore. In fact, it makes me think of my mother's bathroom. I was never allowed in there when I was growing up, but I'd sneak in sometimes and put on her lipstick and eye shadow. I usually think about her at some point in my day, but seeing that potpourri is too much for me. Would my mother be ashamed of who her daughter had become? Am I just like my father, running to the bottle any time I feel uncomfortable? I rush into the stall, get on my knees, and slide my fingers down my throat. A wave of release floods me. I feel I can breathe again. I collapse onto the floor and close my eyes. "You don't have to keep doing this to yourself," I hear my sponsor's voice.
After I rinse out my mouth a few times and wash my fingers with extra soap, I check myself out in the mirror. My eyes are bloodshot and glossy and my stomach is puffing out of my jacket. I head back to my spot at the bar, and see a fresh drink and the rest of my lobster waiting to be eaten.
"Welcome back," the bartender, Dave, says.
"Thanks."
"Care for another?"
"Oh, I think I'm okay."
"Two for seven bucks, remember?"
I keep sucking down drinks as quickly as Dave, my new favorite bartender, places them in front of me.
I am a few drinks in when I text Josh. "Hey."
I can't see that little "…" that tells you when someone is writing back, so I text Charlie. "Hey."
I send a few more texts– Colin, Seth, and that one guy I went on one date with last year but thought he was too boring. "Hey, long time!" "Hey, you busy?" "What's up, it's been forever!" Everyone is ignoring me, so I order another drink.
By the time my empty plate is taken away, Charlie texts back. "Hey."
I smile into my phone, cross my legs under the bar, and write back. "Hey, so I'm at FishBar."
I write this a few times, put an emoticon, then erase it, then end up putting it in and sending it. He doesn't use them, but I think he likes it when I use them. I send another text with emoticons of beer, a fish, and a girl with a kissy face.
I see the "…" as he writes back, then it goes away like he erased what he was going to say, then it's back again. "Care to have some company?"
"YES!!!!"
Even though he is usually really bad about texting me back, Charlie is my favorite.  He is from Georgia, and moved out here earlier this year to be an actor. He is reedy and doesn't have much hair on his body. His palms never sweat, and it always startles me when he touches my skin because it feels like a palm frond. The best thing about him is these ridiculous lines that fill up his cheeks all the way up to his eyes when he smiles. He doesn't smile a lot when he's around me unless he wants to sleep with me.
Charlie walks into the bar and orders two chilled tequila shots before he sits down next to me. I rest the palm of my hand on my chin and look at him like I'm stupidly in love, batting my lashes and trying to smile.
"What?" he says, and raises his eyebrows.
"What!" I say back slowly, in a way I think is seductive. Even though I live a block away, it is usually at this point that we go back to his place. And we do.
#
I wake up in the morning to see Charlie asleep next to me. I lightly touch his shoulder blade where his scar is and I feel him flinch. It's from the cancer he had as a child. It is one of the few things that I really know about him. He rolls over to face me and tells me good morning. He nuzzles my nose with his, kisses my forehead, and asks what I want for breakfast.
That's how I want it to be. Instead, I wake up alone in his bed. I hear him talking to his roommate in the living room with the TV on. I survey the room for my clothes. His room is very simple- a queen-sized bed with no frame that sits on beige carpet, a drawer-less desk with his laptop and a lamp on it, a poster from American Psycho. All his clothes and shoes are tucked neatly into his closet. I had snooped around his bathroom before, but never found anything interesting. No medication, no band aids even. I pick up my clothes, a trail that leads back to his bed, and put them on as he comes back into the room. My shoes hang off his fingertips.
"I called a cab for you." He tosses the shoes in my direction and turns to head back out to the living room.
"Oh, okay."
I open the door and stand by the L-shaped couch that Charlie and his roommate are lying on.
"What are you guys up to today?" I ask them without looking up from my phone, so if they don't reply, I can pretend it isn't directed at them.
"Not much," Charlie says. "Maybe clean the toilet." He laughs and his roommate joins in.
I try to remember when I had thrown up, if it was before or after I had sex with Charlie, if he cleaned it up, or if it's still all over the floor.
I should leave. But I stand there waiting to hear what I know will never come. After a few minutes of this, the cab arrives and I ride in silence back to my place.
As soon as I walk into my apartment, I plug in my phone. It takes a few minutes for it to charge, but I see that Josh had texted back last night.
"Are you busy?" I write.
"Not really. Are you hungry?"
"Starving."

Christina Berke was born and raised in Los Angeles, California. From an early age, she loved libraries and creating stories. Her father taught her to type on an old Corona, where she wrote her first short story. She pursued writing on and off throughout high school and college, completing a minor in Creative Writing at UC Berkeley. After teaching English for five years, she decided to fully dedicate herself to writing. In 2015, she moved across the country to pursue her MFA in Creative Writing at The New School.
She currently resides in Manhattan and is working on her debut novel. More information can be found at www.christinaberke.com
.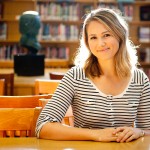 –Art by Menerva Tau
Buy Kicks | Official Images Of The Air Jordan 4 University Blue WMNS Shimmer Bronze Eclipse DJ0675-200 , Fitforhealth