Family by Conor Miggan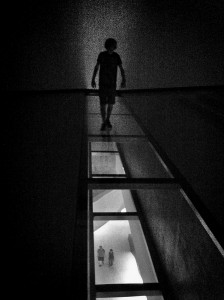 He falls in about 9am brimming vitriol about foreigners and coloured people and the government and all the rest. One time I tried to be funny I said "hey, what do you do in the day light?" He didn't like that. Called me a "smart arse fag" if I recall. He's walled himself in thick in the last few years with the dealers and junkies and the inevitable whores that go along with them. He hates them when he's sober but who else would have him now? His school friends all think he's a drunk and a waste. He fucked too many girls from university to have any friends there. There's a whole side of the city he can't go to now in case he meets somebody who knows "the ex". Sunday mornings are occasionally quite pleasant. In the same way as those rare moments with the school bully where he's being indifferent to you. But this is really till he finishes the stories of the night before. Tales of drunken Dionysian majesty that put us all to shame. I often wonder does he even believe these stories. I've been to this shithole. It's deaths waiting room. The wasted opportunity and regret are the only things flowing more than the booze. But through all the gun smoke and raconteurish bravado I'm forced to believe he at least sees happiness in the distance. Like maybe he remembers the man he used to be and someday he'll get back there. He's my brother, I have to.

Conor was born in Dublin, Ireland. From an early age he had a love of films, books and great storytelling. This can be attributed to his father who opened his eyes to classic Films and Literature at an early age. The urge to start writing began at age 15 when he saw Pulp Fiction for the first time. From that point onward he made it his goal to absorb as many of the great works of Film and Literature as possible and find his own voice.
He cites Martin Scorsese, Kevin Smith and Quentin Tarantino as early influences, and in later years Jack Kerouac, Charlie Bukowski (reluctantly), John Steinbeck, Shane Meadows and Martin McDonagh.
His writing explores mortality, morality, weakness and strength, and the universal truths that bind us together. He favours the use of contrasting moments of comedy with tragedy, in order to reflect the true nature of life.
He immigrated to London in 2009 where he currently resides.

–Art by Mario Mencacci