Doctor Grin by Dan Tremaglio
Doctor Grin had no children, not after the accident, although the prescription from the blue woman in the hills was clear. He awoke staring up into her fickle eyes as the noonday sun ignited her feathers from behind. He stumbled down the dirt path back to town and for the rest of that day and every day ahead he heard her words in a constant whisper. There is always a way, she said. Anything that is made can be unmade. Then it can be made again. He began building the likeness in his office basement the following afternoon. There were jars and jars of teeth enough to construct the feet and legs as high as the knobby knees, but he'd need more, many more. Every night now another nursery window along the federal road slid open before baby teeth rose from milky beds, deposited in a leather sack he wore at his belt. Two copper coins were left beneath the pillow. His son grew from the basement floor one molar at a time, one cusped or canine. Soon the neck cradled a precious jaw, then face, then skull. Finally time came for the doctor to finish what he'd started, time for the boy to say, "Ah," and open wide so that the final pieces could be clicked into place. But Doctor Grin was suddenly gassed, numb of tongue and numb of mind, mute, stuck in some waiting room in limbo forever where People magazine matters and where cell phones go to die, where cavities are replaced with deeper holes filled with silver and tiny pale appointment cards remember the dates like graves.

Dan Tremaglio's short fiction has appeared in numerous journals, most recently in Gravel, Cheap Pop, decomP, Fiction Southeast, and Cease Cows. He teaches creative writing and literature at Bellevue College outside Seattle where he is a senior editor for the journal Belletrist.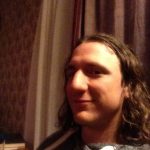 –Art by Piotr Kaczmarek
Mysneakers | Best Selling Air Jordan 1 Mid Light Smoke Grey For Sale 554724-092