The Dinner Party
by Christopher DeWan
Anxiety was the first guest to arrive, as usual. He mumbled a hello and shuffled in the door, without a date, holding out the gift of a bottle of chilled Merlot. "Am I early?"
Anticipation showed up next, a little overdressed. He'd run into Familiarity in the driveway and they seemed to hit it off.
Ambition, Hilarity, and Unexpected came, and carried the conversation, so no one minded much the arrival of Droll. Everyone mingled and snacked and drank, chatting and joking, arguing and assenting, and then sat down for dinner.
Sadness and Futility were late showing up, but eventually took their places at the table. It wouldn't have felt right without them.
(Photo by Peter Konerko.)

Christopher DeWan has published numerous short stories, in journals recently including A cappella Zoo, Bartleby Snopes, The Doctor T. J. Eckleburg Review, Grey Sparrow Journal, and Jersey Devil Press. He lives in Los Angeles with his girlfriend and a small dog named Fitz. Please visit http://christopherdewan.com to learn more.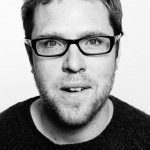 (Photo by Peter Konerko.)

–Art by Marina Ćorić