In The Dark World by Holly Walrath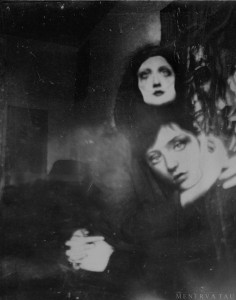 We are séance-ing. We are channeling. We are Ouija-ing. We draw circles in red chalk in the driveway and in the morning your parents will wash them away with the hose. We dance naked in suburbia. We will never know a place this well again. We want to break into the neighbor's garden, to eat the koi fish from the pond like nymphs, but we don't. The round window above us becomes the porthole of a ship, except when we can see the white face of your cat.
Moonlight is a kind of day where we can reach the underworld. It hides behind the stark shadows, if we want it. The dark world, we call it. We can get there by jumping on the fence swing your father made, the one that hangs hinged on a pole in the middle of the yard. It spins in a circle, never stopping until we throw ourselves off of it in exhaustion.
After three turns we are there with the dead things, everything looks the same but darker, moonless. We close our eyes to imagine how the dark world feels, how the creatures in its edges reach tentacles out to caress our cheeks, how the lake has become fire and brimstone. The men from our dreams, knights, soldiers, lost boys with tousled hair that smells of cinnamon and mint, they collide above us in the night, satellites.
In the dark world, we can be bad. We can be wicked, are expected to convert to the cause. We can kiss, if we want to, two preteen lips pressed together like flowers between book pages, to be saved, like memories.

Holly Walrath is a freelance editor and the Associate Director of Writespace, a nonprofit literary center in Houston, Texas. She attended the University of Texas at Austin for her B.A. in English and the University of Denver for her M.L.A in Creative Writing. Her writing has appeared or is forthcoming in Pulp Literature, The Vestal Review, and Vine Leaves, among others. You can find her online at www.hlwalrath.com
.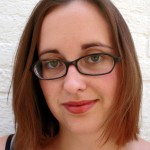 –Art by Menerva Tau