Bud's Warehouse by Alex Pruteanu
Kevin the jock drives us in every morning. A shitty AMC Eagle that smells like patchouli inside. Before we pull up to the dock, we smoke in the car with the windows cracked down half an inch. It's our three minutes of peace before we start unloading semis full of boxed food from Richmond, Virginia. Richfood. Most of the time the trailers aren't air conditioned, so we need to work fast unloading, then stocking and distributing the supplies on the shelves inside. The boss is Ted. Ted is an overweight but diminutive man with remnants of hair and a mustache. He's a lifer. He wears polyester slacks and collared shirts with short sleeves. Physically he is Andy Sipowicz incarnate, only we don't know about Andy Sipowicz yet. Kevin and I are students working our summers through community college. Well…I am, Kevin plays a sport that will yield him millions if he's lucky and doesn't become injured. But he will. He'll blow out the ACL. Really, we're all lifers somewhere even if it's just putting in time at the machines temporarily. Kevin will be a lifer at a chicken slaughterhouse on the outskirts of Los Angeles. He'll work the night shift and he'll get to park on a vacant lot full of gravel out back from a Chinese food place that also cashes checks and serves Philly cheese steaks.
Hey, that's it, Ted says coming through the double doors, as we walk up to the dock. That's it. He says that and makes a slashing motion on his neck, then whistles. That's that. And then sips from a small, Styrofoam cup of coffee.
I'm sorry fellas.
Greta too?
Yea, Ted says. I called her last night.
And Kevin and I walk back to the smoky Eagle.
What do you wanna do?
We should go somewhere. Get a drink.
I mean what should we do. About jobs. Besides, no one serves this early.
I don't know. Don't you have a rich uncle or something?
Kevin laughs through his nose and makes a small bubble of mucus.
Things work out right, I get a try out for the Hoyas, Kevin says.
Yea. Gotta quit smoking herb though. They test your piss now.
I'll use your piss.
That's even worse. They'll have you in prison.
Yea, Kevin laughs. What should we do.
I don't know. But I'll miss the Little Debbie's man on Fridays.
The vendor guy?
Yea.
And after a long time standing beside the car he says: Fuck this city.
And after a long time again he says: I just need to make it to September. To my tryout with the Hoyas.
Yea.
We should go somewhere, though.
Yea. But no one serves this early.
Yea. I know, Kevin says. Goddamn motherfucking city. Capital of the motherfucking world.

Alex M. Pruteanu
Alex is author of novella Short Lean Cuts, available at Amazon, Barnes & Noble, and Powell's Books.  He is also author of Gears, a collection of published stories from Independent Talent Group also available at the aforementioned retailers. He has recently completed his newest novel The Sun Eaters. Alex has published fiction in NY Arts Magazine, Guernica Magazine, [PANK], Specter Literary Magazine, and others. He is a monthly contributor for The Prague Revue.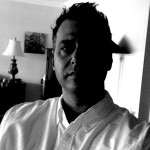 –Art by Alphan Yýlmazmaden