Brief Encounters with a Ghost by Grace Zhang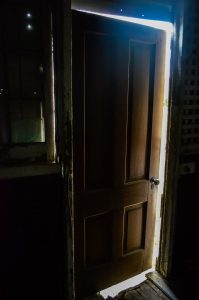 she often takes showers
late at night,
when you need her most.
comes fumbling out
half-apologetically,
humming semi-sweet aphorisms
the size of grapefruit
— like the ones she used
to cut for you by
kerosene as a child.
in a flurry,
she tells you about
the pomegranate seeds
she copped for free
at a gas station back in Xiamen,
remember –
remember, lei lei, how I fed you those
when you were 4 and
it made you stop crying? I
swallow and don't tell her that
she carved out all those bits
when she left, juice
the color of
blood on pavement
drizzling down the walls of
a pomegranate shell,
a wide
open
body.
it's been 13 years.
she slips into dialect.
13 years
to the infinite softness
in the kitchen that shaped
a whole childhood, the rhythm
of conversation & cutting board
unfurling under moonlight,
transcending across
two different generations,
two different worlds,
as she hacked at a watermelon
till its insides were raw,
humming that hard work is bitter,
but the fruit is sweet.

–Art by Chelsea Sturgill