Your Body by Emily Laubham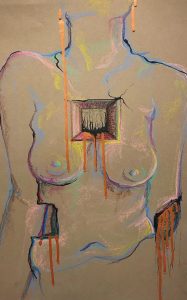 It's strange, but I can't stop picturing your knuckles.
Cruxes on your fingers, cracked and callus desert peaks.
At night I flipped your hand but missed the message.
Anglerfish fingers, moon letters for me:
If only you knew what I'm going to do.
I will see you on the news with bodies in your basement.
I will hear you say the most beautiful thing.
If only you knew what I'm going to do.
Untangling your intentions is to run
My hands through chicken wire,
Organize the jungles of Peru.
I'm disgusted by my willingness to meet you in the dark.
But if your tongue slips I will swallow it.
I have bodies in my basement too.

Emily Laubham is a fiction writer and blogger in Pittsburgh, PA. Her work has appeared in Ping-Pong Literary Journal, Contrary Magazine, Flash: The International Short Story Magazine, Kaaterskill Basin Journal, Inwood Indiana, Pif Magazine, and Autumn Sky Poetry. She travels the world as often as she can afford to.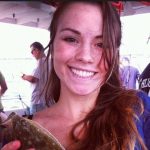 –Art by DML