Atomirotica by Ellen Morris Prewitt
            In 1957, the year of my birth, mushroom clouds bloomed over America.
            Nevada was the testing site, "continental," they called it. Meaning the site was on the continent, not that they were suave, sophisticated, urbane. Yet, at the Atomic Testing Museum in Las Vegas, they show a film of the atom—our first Adam?—in a top hat and tails, dancing his debonair dance. The museum greets with a cutout of Miss Atom Bomb, a mushroom cloud billowing where Marilyn's skirt would be.
They created it, the Atomic age, when we drank the Atomic cocktail, danced the Atomic Bounce, begged for the Atomic hairdo—can you say a wire-form mushroom cloud encased in hair, sprinkled with glittered silver? For eighteen years they did atmospheric testing—a nice glass of wine, candlelight, that ol' black fission. They named the bombs after Rita Hayworth movies, to distract those soldier boys. After the test was done, they gave the boys brooms to sweep the fallout under the rug.
A mishap—Miss Happ, 1954—contaminated 7000 miles of the Pacific Ocean. Tuna fishermen strayed too close, their faces turned black, blackened tuna. "It goes no further than the skin," they said, and saved some radiated cows to prove it, grazed them at Oak Ridge, Tennessee. Their offspring graze there still. Black Angus, maybe. Hereford.
Commies, they cried, have the A, we must build the H. We said OK, and they strove for more BTU's: Blowing Things Up. What had been malign neglect rotted into fetish. What, they wondered, would happen to the boys in nuclear combat? "Go on in," their snakey selves ssssuggested . . . one hour after the explosion. "Wander in the fullness of the new garden of real," they misdirected these babies of our heart.
They watched—voyeured, if you will—while their agency minions piddled the mannequins: tied strings round their waistless bodies and posed them in "Doom Town" to see how Mrs. Cleaver would fare under nuclear attack. She lost her wig. And her comely head.
When the 1960s world shuddered at their actions, they went underground, blowing up bombs in the breast of Mother Earth. The radioactive steam "vented" from the underground blasts . . . don't we all? In 1968, when a B-52 crashed off Greenland, they removed hundreds of tons of radioactive ice. Plutonium scattered, but what had it mattered? Hot Stuff in Greenland! Triple X!—who cares about an icy piece of rock no one can find on a map, anyway?
The first suit (not a tux, a law suit) was filed by the downwind contaminated. Allen, et al. Yeah, it's those et als, they're the problem. If only the et als had followed the compliant leader of the pigs—the 111 white Chesters who never sue-ied the government for harm done. They dressed them nekkid pigs up in soldier uniforms, sent them hoofing into the bomb blast. Seventy-two didn't live to tail the tale. Died with their boots on, their zippers and seams blown to smithereens. Those pigs got porked, without even dinner and a movie. "Charge of the Swine Brigade," they called it. Seems like a joke. Not to the pigs.
Oh, they knew the truth, but they stuffed the bloody sheets in the hamper. "Quit complaining!" they snapped. "Someone has to pay the price for the good of all. You're not the one paying the price, what . . .do . . . you" – stuff, stuff – "care?"
We listened, and we shut up.
But you always pay the wages of war.
Thousands dead or dying from leukemia, tumors slowly growing. In the 1990s we passed legislation: lump sum payments for the lumps found in test site workers and downwinders. We apologized for tumors and cancers, but not the DNA-stranded genetic defects: leave us our g-string, we pleaded, we promise to be respectable. To show our sincerity, we listed the test site—its Japanese villages bombarded to study the effect on the Nagasaki citizens, the paper huts flapping in the wind—on the National Historic Register.
And when we could, we took a break.
We waxed nostalgic on our X-rayded past.
We stroked the memory of our bombshell beauties.
And we sighed for the time when we would pack our picnic baskets and escort our dates to the top of the hill where we'd spread our blankets and watch the cloud rising above the twinkling desert sand.
The Atomic age—what a blast!

Ellen Morris Prewitt began writing nonfiction at Kenyon College Summer Writing Program and returned as a Peter Taylor Fellow. Her nonfiction has been in Brevity, Hotel Amerika, Alaska Quarterly Review, Barrelhouse, Fourth Genre, Alimentum and elsewhere. She's grateful to Sue Silverman for including her essay "Tetanus, You Understand?" in Fearless Confessions: A Writers' Guide to Memoir (University of Georgia Press, 2009) as an example of metaphor. She instigated and, for 8 years, led a weekly writing group of men and women experiencing homelessness and edited their memoir, Writing Our Way Home: A Group Journey Out of Homelessness (Triton Press, 2014). Sooner or later, her podcast, "Ellen's Very Southern Voice: Novels Told Write," will launch. She splits her time between Memphis and New Orleans.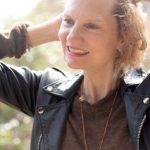 –Art by Kithusa