Wedding Portrait by Cassie Title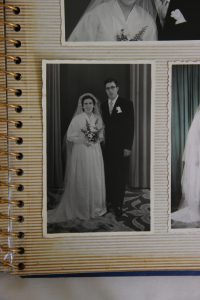 You can't see what kind of shoes she's wearing, but I imagine they're pearly white, kitten-heeled, with thin straps wrapped around her ankles. Her dress is short, above her knees: quarter-length sleeves and milk-colored lace. She's wearing a wide-brimmed hat—it hides the soft, slim headband underneath. Her hair is so dark it looks black.
My father stands to her right. His square-framed glasses are huge and tweed brown—they take up so much of his face. His black suit is nondescript; it looks like every other one I've seen him wear to High Holy Day services for the past twenty or so years. His hair is not yet gray—it's as dark as my mother's—and he must have been laughing at someone behind the photographer, because he looks almost deliriously goofy.
Her hand straightens his tie, the silky, black tie my father bought at Saks with his father. He and his father walked around the men's section, painstakingly examining every tie, fingering all of the fabric. After he bought it, he practiced tying it every night to make sure it would look perfect the morning of the wedding.
The dress is a Mexican wedding dress—my mother bought it in a cheap, tiny shop three towns over by herself, without her own mother. Their wedding had no connection to Mexico; she had no connection to the dress. She went alone and walked around the store, once, then twice, picked it off the rack, paid for it, then brought it home. She didn't try it on until the morning of the wedding.
Their hair is still dry in the photo, but I know that not long after it was taken, the rain started pouring down in ice-blue drops, soaking the grass, bouncing off the tent, washing the wedding away.

Cassie Title holds an MFA in fiction writing from Emerson College, where she teaches in the First-Year Writing Program. She is also an Assistant Professor at Berklee College of Music. Work has appeared or is forthcoming in Forge, Interview, and Defenestration.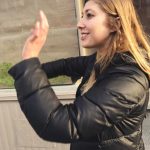 –Art by DML