The Value of Dead Black Men by Tanya Steele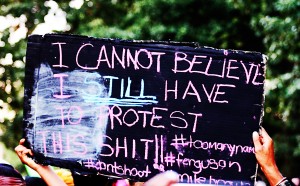 I want to turn my tv off. I keep seeing dead Black men. I can't. I keep watching. A parade of brutalized Black bodies. Mike Brown is on my tv. He's lying dead in the street. You can even see a pink trail of his brain matter. He's the lead up to a commercial break. He's on after commercial breaks. His dead body, lying on the ground, is the hook.
To distract myself, I decide to go and buy something pretty. I want to put something pretty on my body. Maybe that will keep people from brutalizing it.
My neighborhood is gentrifying. We have a Starbuck's, now. I hate it. White people everywhere. Black people are disappearing.
There are new shops. New, vintage shops. I go in to buy something pretty. The clerk looks at me. Her body jerks. Her initial response to my Black skin is fright. She catches herself, stands and re­adjusts to mouth, "Can I help you?" Me, with an urgency, "Yes, I need to buy something pretty." "What size are you?" "10", I think." She looks at my body. "Yes, that looks right." She shows me where the 10's are. "Have a look", she says, as if offering me  permission.
I'm sweating, it's hot. I touch the clothes, gingerly. Don't want to get my sweat on them. She's watching me. Vintage, 20's, 30's. I choose a dress. The woman stands. "That's from the 20's". No price tag. "I'd like to try it on", I say. "Oh", she says. She opens a hanging curtain to reveal a box that is a dressing room. I stand in it. It's hot, makes me sweat more. I'm wiping my brow. I give myself a good wipe before I slide the pretty dress over my Black body.
No mirror in this box. I look down at the pretty 1920's dress. "1920's", I think, "Good chance the person who owned this dress was racist. Her skin was where my skin is. She liked pretty things, too. White people love the past. The past was racist."
I come out of the dressing room. The clerk looks. "It's beautiful on you." Sometimes, with my body, I'm bashful. I put my head down. I walk to the mirror. It is a pretty thing. "How much is it?" "$350", she says. I say, "I won't be spending that much, today." But, I walk around the store, looking at things, in this pretty dress.
I see old albums. White people on vintage country albums strike weird poses. I remember that I own old albums. "I have albums. Do you buy albums?" She says, "Depends." "I have Charlie Parker and Miles Davis and Thelonious Monk." Her eyes light up. I register a change. "Bring them by", she invites.
I take off the dress. I thank her. Grateful to get out of that hot ass store.
I return home. I will not turn on the tv. I decide to research my records because her eyes lit up.
She went from fear to intrigue when I mentioned those dead Black men. I need to google my albums. Rare, Jazz vinyl. There are sites that appraise records. Whoa, $4,000 for one. I have, at least, 55.
There are all kinds of ratings and standards. Jazz collection is a thing of which I had no idea. One after the other, I realize, I have something. These dead Black men are valuable. These records were valuable to me, simply, because I love Jazz. I love this Art form that came out of Blackness. Pure, brilliant, lofty. Jazz was our creation. Now, there's a Jazz collecting thing.
I discover the name of a person that buys and sells rare Jazz. People write about him like he's a god. He's the god of Jazz albums. White man who owns a store in midtown Manhattan. I take my albums, as many as I can carry, to him.
I didn't realize how heavy these dead Black men were. I'm carrying them around the city and it's hurting my back. I stop, rest, put them down, pick them up, keep walking.
I reach my destination. There is an intercom. There is an intercom for a store that sells Jazz records? I hear, "Who is it?" I say my name (thank goodness I phoned, earlier). Hesitation. I am buzzed in through the front door. Nice building. I see, "the store" is on the fifth floor.
I reach the floor, walk the hallway and reach a door with a buzzer on it. It is locked, bolted. I buzz. I am allowed inside. I walk in, the owner sits and stares at me as I enter, I look up and see a security camera. The room is filled with all things Jazz. Postcards, books, rows and rows of albums. It's like a Jazz museum. I take my albums to the desk. It is a vintage desk, one of those drab industrial desks. The owner invites me to place the albums on the desk. White men walk about the store.
The owner motions for me to sit my albums on the desk. "Right here?", I ask. "Right here." He's not friendly. He's all business. Before going, I researched my albums. I know how rare they are. I have first pressings of Lee Morgan, Coltrane, Miles. First pressings are the very first issue of the album. The very first editions. They are the holy grail of Jazz records and I have them aplenty.
The owner peruses, each one, carefully. He touches them with a deference and allegiance that is similar to how the woman interacted with her dresses at the vintage store. I recognize the album he has on the turntable, it's Billy Eckstine. Someone buzzes. The owner looks at the security camera, he buzzes, whoever, in.
He creates two piles of my records. He says nothing to me. He does not look at me. His sole focus is on the records. He touches them. Slides his finger over the surface area. The door buzzes. White men. These White men are dressed to the nines. They walk to the desk and ask for "Coltrane in concert in Paris, 1953." They are very specific. "Yes, I have that." The owner leaves his desk. He locks his desk drawer where he keeps the cash. One can see, he is reluctant to leave me alone. But, he has to.
He returns. Does not look at me. Simply sits at his desk and continues going thru my stash. Other men are buzzed into the store. This time, White men in average clothes, khaki, almost hipster. They walk about the store. The other men come back and purchase Coltrane in Paris for $350. Cash only. Words are exchanged. These White dudes are foreigners, German, I think. The cash exchange takes place. These dead Black men are valuable.
The owner goes thru my pile. The almost hipsters approach the desk. They see my stash.
"Those are yours?", one asks. "Yes", I say. The owner has my 'A Love Supreme' in his hands. One of the almost hipsters says, "That's a first pressing." I say, "Yeah, I have a lot of first pressings." "Lucky", he says.
The owner finally speaks about my albums, "You wouldn't feel that way if you looked closely. You'd be extremely disappointed." He spoke as if I wasn't there. He spoke as if my bounty was trash. They all laughed. I wondered how Miles and Coltrane would feel about this. But, they are dead. Their lives are housed in those albums. They have immense value because they are dead.
The almost hipsters leave the store. The owner then speaks to me. "This is the pile that isn't worth a dime. You will not get anything for these. Jazz collectors are fastidious. They want their albums to be pristine. No wear on the vinyl. No scratches. No pops or pings." I'm thinking, "Huh, but it's Miles. It's Monk. It's Coltrane." "These are worthless, get them out of my sight." I didn't know if he was referring to Coltrane or me or to the albums. The disregard felt personal.
I said, "I did my research. These records are worth thousands of dollars." He said, "Yes, if they were in mint condition. These records are not." I said, "These records are older than dirt. They are from the 50's and 60's. How does anyone expect them to be pristine?" He says, "Jazz collectors expect the best. They preserve these records. Keep them in the best environment, cleaned, encased and only play them on the best systems." In other words, these White men value their dead Black men. He picks up Coltrane's "Crescent" from my pile. He puts it on the turntable. "Listen", he instructs.
I do. Sounds great to me. "Did you hear that ping?" Me, "no". "Listen", he says. There are subtle cracks. "Okay, but the record is old.", I say. He takes it off. "I don't want this on my machine. Take these out of here. And, I'll give you $25 for this other pile." Miles Davis 'Round Midnight', first pressing, a Freddie Hubbard, Yusef Lateef, etc. are in that pile. "No", I said, "I'm not selling them." In my mind, I think, I will not sell my men to you."
I put them back in my bags. Sling them over my shoulder. I carry them to the subway. My back is hurting. These dead Black men are heavy. I carry them with me. I keep them close.
I realize I am not caring for these dead Black men in the way that they need it. They are aging and need to be preserved. And, I wanted to prove the store owner wrong. I sell three albums on eBay for $865. I then decide to sell more. I post on craigslist. Get offers in less than an hour. One buyer says he wants them for his Mother. She is a purist who only listens to Jazz on vinyl. And, she loves Coltrane. He assured me they will be in the best care.
He wants them, immediately. I agree to meet in a few hours. But, I can't, I keep postponing the meeting to make the exchange. Finally, I agree to meet the next morning.
The buyer is coming from the Upper West Side and wants to make sure my neighborhood is safe. He isn't familiar with my 'hood and is concerned because he'll be carrying a lot of cash. I let him know that I live in the hotbed of gentrification. And, I tell him, I need to feel safe, so, we will make the exchange in an open area. The White man is afraid to buy the Black dead men in a Black neighborhood.
On the morning I am to sell them, I'm paralyzed. I can't. I can't part with Coltrane and Miles and
Monk and Abbey. It doesn't feel right, feels sacrilegious. It's like selling the first printing of a Toni Morrison novel. Black Artists mean everything to me. I go thru my stash and select the ones that are the most dear to me. I call the buyer and say that I want to keep 7 of the records. He says yes and tries to lower the price. I go silent. He says, "Okay, keep the price as it was."
He arrives. We sit on a bench. We make small talk. He takes the albums. I watch as he inspects each one with great care. I don't feel bad because I know I will be returning home to these men. And, I can tell, these will be in safe hands. I walk home, relieved that I don't have to carry them around anymore. I walk past the vintage store knowing that I could buy the pretty dress but I choose not to. I want to go home.
At home, absentmindedly, I turn the tv on, again. There is Mike Brown's body, lying on the ground, again. This time, there is a filter over the pink brain matter. Mike Brown's dead body is the hook to keep the viewer, to get the ratings, to earn the profit. Black men are valuable when they are dead.
I look and see my Coltrane and Miles and Monk and Abbey. They are with me. And, they are safe, not going anywhere. I will encase them and house them in the finest covers that I can find. I must preserve them. As an Artist, I have a brief idea of what it meant for them to create, to live, to survive. These Artists brought it all forward for me. They are me and never shall we part.
I turn the television off. I do a google search on "how to preserve vintage Jazz albums". I wonder what will appear if I google "how to care for dead Black men".

Former Crisis Intervention Counselor to victims of domestic violence, people who were suicidal, incest survivors and sex offenders. Received M.F.A. from NYU- Tisch School of the Arts/Graduate Film. Won a Director's Guild Award as Best African-American Student Filmmaker. Feature Screenplay-THE PARACHUTE FACTORY won several awards and is now in development. Steele will be both Writer and Director of the film. She writes cultural criticism: essays on racism, feminism and pop culture. A few of her essays can be seen here: http://www.digtanya.com.
Follow Tanya Steele on Twitter at @digtanya. Or on facebook at https://www.facebook.com/SteeleInk.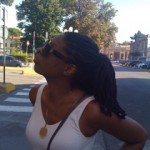 –Demonstration sign photo: Elvert Barnes
–Record shop photo: JF Hayeur