Two Poems by Chelsea Bayouth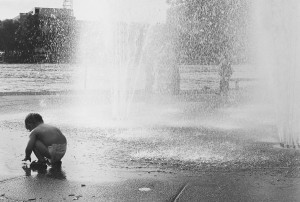 Smoke Women
_How many times did I wish for a suede cheeked Nana?
A grandmother with a house in a landlocked state
where I would summer unruly and come of age gracefully,
shaped by her wisety and love of the land?
Who's ears would hear the secrets that my parents ears would not.
Who would tell me about brassieres
and men and peeling apples.
Who would understand my rages.
I didn't have an apple Nana.
They were both women born of an era of smoke.
Smoke that stuck to the grain in the wood.
And in the sky of the burning valleys.
Smoke settled and green at the foot of the hills in the time before hybrids.
Smoke that came only on birthdays
and lingered briefly when the candles were out.
I always heard about the broken things.
Broken front teeth of a cheating grandfather.
The broken farm of a death too soon.
Broken china in the sea of a kitchen.
Broken vows.
Broken hips and tubes.
They were skinny and hard.
White old women of an aging white Hollywood.
Painters and writers. Always donning sunglasses,
always ice in their rum. Always lipstick. Always jewelry.
Liz Taylor and Vivienne Leigh.
Never knowing what to say to me or why.
I wanted needlepoint. And cookies.
A soft belly and a heaving bosom.
I yearned to be bossed in way I would listen.
Wanted stories of the war and how they fell in love.
To know about the time of non-essentials.
And where their parents came from.
My curiosity made me uncharacteristically shy.
Who cares about the ficus in the living room the shape of a girl?
Which is why I needlessly adjusted my training bra
by her hospital bedside one broken hip ago.
And she noticed before she died that I would be a woman soon, like her.
Which made me rage inside with pride.
I was a timeline on fire of her past and my future,
all from a comment, raised eyebrows and a tip of her head.
But before I could get there, before I could show them, they died.
Their habits eclipsing their life.
I was left dumb, a grandmotherless girl with no history,
who knew nothing of casseroles or welping boxes.
I carried on.
Feeling bitter towards Werthers commercials.
Frequently I wonder if like in the Simpsons,
their heads are lined up on puffs of clouds and looking down.
To see me cleaning paintbrushes. To see me typing this.
To see me wear lipstick and gold and turn down cigarettes.
And to watch me secretly break porcelain when I'm angry.
If there is a booze soaked cork dance floor in death, they are there.
But also, they are here. Not in the stories I heard from them
or the summer picked peaches of wisdom, but in me.
This artist. This woman.
Ambivalence. This furious body.
Growing exhaustion of expectation.
Unquenchable thirst.
A timeline smoking
on fire.

Two Pianos In The House
One house
Two parents
Three wild, swimming children
Four family pets
Five glowing birthday candles.
One tooth lost
Two color changing cereal spoons
Three hundred trips to see grandma in the hospital
Four dog eared pages of The Growing Up Book
Five hand me down training bras.
One trip to the mall for pierced ears
Two best friends ever
Three names in hearts carved in the door of the hope chest
Four sharp things hidden near the mattress
Five pages written in the journal tonight.
One messy smoky room
Three notches on the bedpost
Four pm wake up call, Vicodin and Portishead
One trip to Paris
Chocolate, Xanax
One graduation
Lots of cards with money.
One quiet family
Whispered vacant rooms
Three fireplaces
Ghost animals all around.
Five empty fingers
Two walks around the block at Christmas with my Father
No marriage
A place where paintings used to be.
One ring
Five family members
No, six
One baby
No baby
No. Baby.
One car
One garage
One head
Two hands.
Engine humming chest.
Three meals a day
Two meals a day
One meal a day
Snacks only
No meals
No meat
No restaurants
A pantry full of cans
A freezer full of food
A rotting full, forgotten fridge.
One living house
One house with blood
One house
Our house
Our house
One family
Two families
Three families
Moving vans
Painted walls
Empty drawers.
One glittering, vulnerable smashed car window.
One childhood boxed inside.
One childhood covered in glass and leaves and rain.
One different car in Mama's driveway.
One Daddy gone.
New furniture crammed everywhere.
No tea cups in the cabinet.
Two pianos in the house
Two Pianosin
the hOuse
TWo piANos
iN theHOUsE.
TWOPIANOS
__IN THE   HOUSE.

Chelsea Bayouth is a poet and artist from the San Fernando Valley in Los Angeles. 
While getting her BA at CalArts she was heavily involved in creative writing and was mentored by the likes of Douglas Kearney, Maggie Nelson and Anthony McCann. She has performed at Beyond Baroque, The Last Bookstore, The Levitt Pavillion, Poetry Solves Problems, and living rooms across LA. In February 2014 she published her first book of poetry, Beaus & Eros.

Chelsea first began writing at the age of eight when a blank book was given to her at Christmas. Hence, her childhood was spent in her tree house composing prose about bugs and animals. She is inspired by monsters and aliens and she owns a lot of wind chimes. When she isn't writing, she is creating terrifying animal masks that she is running out of room for. Her poetry now, captures her unique experience of womanhood as a human animal. She is waiting for the mother ship, she is falling in love, she is taking the potion. And she is currently making progress on her first novel.

–Art by Charles Simms