Two Poems
by Howie Good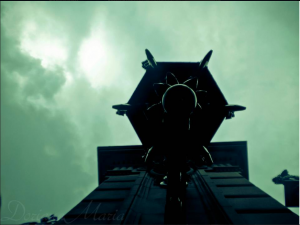 HERESIES
1
I pass half the day wondering what day today is, which world I'm in, rain clumping over the cobblestones on silver crutches.
2
They shove a bottle up a woman, or sometimes a police club. It's what they call "white crucifixion" in all those places where God doesn't RSVP.
3
A voice that perhaps I only think I hear calls indistinctly for something – forceps? – and as I fumble around in the drawer, angels develop rudimentary assholes and then pale, spidery branches of light spread.

LIFE AFTER DEATH THREATS, or WHAT THE CAMPUS POLICE SAID
Avoid the busy intersections of time and space; frequently change buses, friends,
pants size; consider carrying a fire sand bucket as well as a cell phone; get a dog for
protection, or, if not a dog, a mantra; drink beer to camouflage your characteristic
burnt-toast smell; remove your name from the spines of library books; double-check
it's really your wife in bed before climbing in; and one day when a gunman shows up
and shoots at you, gray doves may tumble out like the stunned souls of newborns.