Two Poems by Clara Burghelea
Villa Teresa, Limenas
This talcum-dusted morning, S&M gathered sea
treasures: a small urchin, two crabs, a speckled mussel.
Behind a pinkish stone, they spotted a honeyed anemone.
Let's call it Mona! they cried, asking for approval.
They placed each of their beauties in plastic cups,
on sand beds and filled them with salty water.
They set about trying to teach them the human ways-
move when summoned, swim as told, rejoice upon
seeing their freckled faces. Now what? Now we wait.
A sea will be growing on our little terrace
and we'll have to name it and care for it!
S said with authority. Twelve is all about being right
and unforgiving, a pair of joint eyebrows
to seal the deal. M's eyes filling with tears:
But this is not our home. We cannot leave our sea behind!
A shred of kind pain on his tanned cheeks.
I hold myself behind the lacey curtains. I wish my love
could seam their world and save them from its rage.
A mother's will is bone, each breath perforating the lungs.
S and M rest their foreheads on the plastic cups,
their silhouettes a spell of fabric against the sky's lavender.

My therapist asks me to write down ten things my mother loved
To walk her sturdy calves in high-heeled
shoes her husband forbade to parade.
To put on red lipstick, smoke at sunset,
and rule over peeled garlic cloves.
To turn love into soup, each semolina
dumpling easier than a summer kiss.
To keep an apple soap bar in the drawer,
forget about mixing lye for cloth washing.
To drink real coffee, never nechezol, in pretty
cups held by manicured ladylike hands.
To call us balls of fluff, then huddle together,
never looking the rusty radiator in the eye.
To read good books, wrapped in Scânteia,
on the bus, third shifting to her dusty lab beakers.
To smell our sickly-sweet sleep smell off our napes,
call us sweaty chickens for eighteen summers in a row.
To blow away fever spells with the quick staccato of her
voice, her own gaze burning longer into the long night.
To linger on, inside her handwritten recipe notebook,
my son's left cheek dimple, and every cruel dawn.

Clara Burghelea is a Romanian-born poet with an MFA in Poetry from Adelphi University. Recipient of the Robert Muroff Poetry Award, her poems and translations appeared in Ambit, Waxwing, The Cortland Review and elsewhere. Her collection The Flavor of The Other is scheduled for publication in 2020 with Dos Madres Press. She is the Translation/International Poetry Editor of The Blue Nib.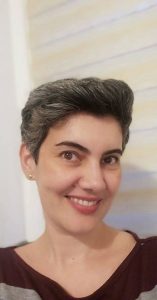 –Art by Giuseppe Milo