Two Micros
by Megan Dobkin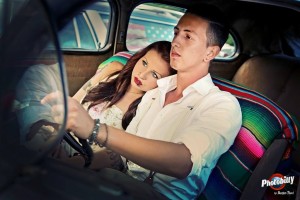 THE HATBOX
The Guy From Work idles the car, hoping to be asked inside. He asks for Angela's phone and opens up her calendar app. He scrolls to next Friday and types: "I have a second date with Jeffrey." It was a rehearsed move for sure, but she could tell from the way he grinned that he had never used it before. Angela takes back the phone and shifts in her seat. She hates this part. She's already thinking of caressing the oldest one. Stiff and crinkly. She has kept it since her first year at sleepaway camp. It was from the one that got caught sneaking out to see her in her bunk. The Guy From Work tells her that he loves how he feels when she is around, but Angela is already pining for the one from the boy who seemed to intuitively know about Angela in the wild. Boy, did he mean something. Angela taps her hand on The Guy From Work's thigh and says "Thank you." As she opens the car door, she ponders the soggy one from that silly boy who said he wasn't thinking of her at all. She closes the front door to her apartment, never even turning to see if The Guy From Work had waited a beat before driving off. When she enters her bedroom, she squats down, legs apart, and carefully lifts up one white ruffle of the bed skirt. She pulls out the hatbox. It's that vintage-y yellow color that always looks dusty, even when it isn't. She lays it down on the bed and slowly runs her hand around the consecutive curve of the box. She flicks the paper that has peeled up on the sides before she opens it, revealing a mound of love letters. She strips down to her sheer white panties—the kind you put on before an important date—in order to take possession of her real lover for the night.

SWING SET
They swung up high on their first date together. It was a whimsical stop to the abandoned park after their dinner at the Olive Garden. Laughter and levitating hair. Little did they know the importance of their rhythm. That, at one point, he will be slightly ahead and she will be slightly behind. And then they will be alternating in opposite time. And then they will fall in step again—this time she ahead and he behind. And for some beautiful, sacred moments, they will actually be synched up—and the world would be a blur around them.

Megan Dobkin spent fifteen years as a film and television producer. Now she stares at her own damn blinking cursor. Her writing has appeared/is forthcoming in The McNeese Review, Word Riot, Crack The Spine, The Bicycle Review, Apeiron Review, The Euonioa Review, and Chrome Baby. She just finished her first novel. When she is not writing, she is fielding tough Star Wars questions from the two criminals who live in the backseat of her car. She graduated with degrees in English and Cultural Anthropology from Kenyon College.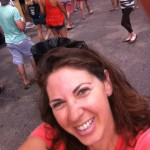 –Art by Bostjan Tacol