Transfiguration by Raymond P. Hammond
Transfiguration
And it came to pass, as they still went on, and talked, that, behold, there appeared a chariot of fire, and horses of fire, and parted them both asunder; and Elijah went up by a whirlwind into heaven.  —II Kings 2:11
in the summer of 1971 my dad and mom took me to the route 11 drive-in in roanoke, virginia i was almost 8 years old i am sure they took me for the children's movie before the feature—the name of which i don't even remember, and then the plan, i am sure, was that i would fall asleep in the back of their 1970 ford forest green country squire station wagon that they had fixed with blankets and pillows and me in my jammies and the back seat collapsed flat but i rarely ever could sleep at the drive-in with the scratching sound of the sound box hung metal to glass on the driver's side window so i hung my chin over the top of my parents' front bench seat and watched intently as barry newman as kowalski in vanishing point drove the challenger and drove the challenger and drove the challenger and drove straight through the desert that was so far away from roanoke.
now maybe I was a little slow for an almost eight-year-old as i didn't understand too much about that movie but all that driving made me slowly sleepily blink in and out, back and forth from movie to my own life i always wondered at that age where i would go, what i would be, how would i live, what would i see in life those were always my favorite dreams so my contentment from the popcorn and candy and soda and summer air and solace of the station wagon and seat laid flat and parents as I watched intermittently as kowalski drove that challenger and drove that challenger and drove that challenger forever forging forward
in my narrowing slits of my eyes fighting sleep in my intermittent dreams i did not become kowalski as he approached his vanishing point of two bulldozers blocking the road—he was not the hero—i did not become the slow low constant growl of the challenger—it was not the hero—no, my life became the road and i wanted to become one with the distant horizon and for that one moment of watching and dreaming of driving the road full-throttle toward a paper-thin line between earth and heaven, i became what kowalski could not: i became the hero, the ascension without death to nothingness, the vanishing point

Raymond P. Hammond is the editor-in-chief of both The New York Quarterly and NYQ Books. He holds an MA from New York University and is the author of Poetic Amusement, a book of literary criticism. He lives in Beacon, NY with his wife, the poet Amanda J. Bradley, and their dog Hank.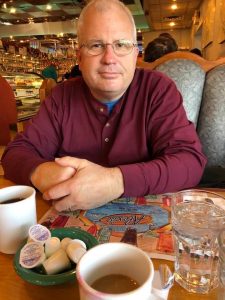 –Art by Giuseppe Milo