Tonight, an Unstitched Wound by Lena Ziegler
and I've convinced myself I am a list of holes.
Crouched in child's pose, my butterfly lungs don't trust color.
This, the year of the gorilla screaming
flesh shredded and guts thrown far,
my life motto comes wholesale from an overpriced pillow: stay wild,
like these heart wounds aren't sink holes
like these caters grown cavernous aren't ringing.
Is there a way to love without breaking your own heart?
I don't know, but I'm guilty.
I want to write the one-lung man into a story,
summon the thick, white, skin-strip of his center where he'd been cracked open as a baby,
his ribs pulled apart like French doors to let the smoke out.
S wanted him to be someone else; I wanted him anywhere else.
My body was never a trapdoor except for the part that wouldn't lock.
If not for the moonscape violently whistling & child-bones blown apart,
I'd spell the one-eyed daddy into my skin shape,
remember the role I played of little girl breaking,
remember the role he played in revealing
that men missing body parts will cradle their lack inside me.
One lung, one eye, and I become something MAGIC:
a place to grow relevant against pink cheeks & calf fat,
a wet mouth to plant flowers that bloom fresh like divorce.
See, all I ever wanted was that sweet heart-sound of mint leaves and pepper
& to love deep & to bask in the scent of knowing
this girlish giggle might be blameless, if not fleeting.
But I am guilty; I am guilty.
Yes, I've grown primal among little-mouthed men, every flavor of my beating heart, poisonous.
Yes, I've been a slut for damage, my greatest kink a torn out throat.
& if only I believe cum smells like the ocean, I can pretend it won't let me sink,
& the men I've called daddy won't leave me orphaned,
& the future won't call this language a savagery,
& that MAGIC dies too, worn ragged from holding,
& that love will burn feral a fire tender & thieving

Lena Ziegler is the editor and co-founder of the literary journal The Hunger. She holds an MFA in Creative Writing from Western Kentucky University, and is pursuing her PhD in Rhetoric and Writing at Bowling Green State University. She has been a finalist in GoldLine Press's Non-fiction Chapbook contest. Her work has appeared in Yes, Poetry, The Seventh Wave, Gambling the Aisle, Red Earth Review, Miracle Monocle,  Fredericksburg Literary and Arts Review, and is forthcoming in The Flexible Persona and others.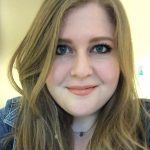 –Art by Jaime Ryan
affiliate tracking url | Women's Designer Sneakers – Luxury Shopping