"Youth" by Phoebe Robertson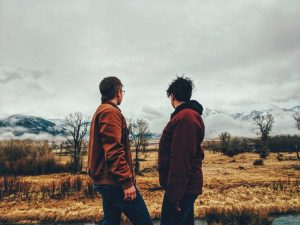 Ill-hearted.
He's made of
light that spills sickly sweet.
She can't sliver away,
as he skins her whole.
There is nothing left of
the past
which
was once
two sides of the same coin.
They crumble coldly against each other
in a broken embrace.
Lying together,
they seep
like the worst kind of bruises.
She's photographing magic.
He's biting her lip.
They
. . . . . . . Climb
. . . . . . . . . . . . . . . Underneath
each others flesh.
She's the worst kind of him.
He spits on her skin,
indifferently satisfied.
He believes in smudged mascara
as the ship of romance drowns.
She bathes in his liquid.
Flies flock to the dying romance
like sailors to a lighthouse.
The love was in their eyes
but
now it slips between couch cushions
with
the
lost
ten-cent pieces.

Darling, this just isn't our time.
Distance makes
the heart too kind.
You.. looked like… my reality.
I'll call you a final time
sarcastically.
Moments are porcelain things
with
fingertips reaching for
the couplet
of eternity.
The moon whispers secrets
as I venture through country roads
full of skellingtons buried in corn mazes,
fields of wildflowers are dug especially to rot.
I have a goldfish temperament
and you look out to life
like it's the view from the wrong side of a police car.
My plane crashes
like an unanswered concept
I spend
. . . . . . . . . . . . . . . the
. . . . . . . . . . . . . . . time
. . . . . . . . . . . . . . . descending
reminiscing on your silhouette.
You bring me life like a used car commercial.
Your smile brings damp things to the grave …
Blending ancient creatures to fiction.
Times like this,
I imagine cicadas covering
every inch of my body
as memories suffocate me with wet dirt,
choking my love.

Closet.
My closet
is full
of secrets.
Of items
hid in
coat pockets.
Monsters blending
with worn
faded fabrics.
Scuffed boots
scattered haphazardly
collecting dust.
Old memories
lost in
the darkness.
Photographs tucked
away in
shoe boxes.
A time
capsule to
old life.
This poem
Wasn't supposed
To be literal.

Phoebe Robertson is an aspiring poet studying in Wellington, New Zealand. Her work has previously appeared in Poetry NZ Yearbook, Flash Frontier and Young NZ Writers. She spends her time loitering at Ivy and seeing weird Theatre.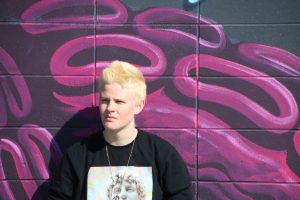 –Art by Mick McClelland