Three Poems by Clyde Kessler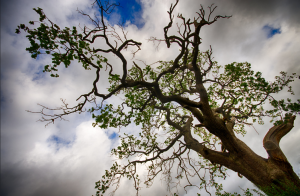 MATANUSKA
Death tries to carry you home
maybe with a glacier to heaven
maybe with hell itself melting,
yet never with remembrance.
Ask a caribou for a language
beyond its heart. There's its hide
all silent, something a child wears
to scratch a window into the ground.
Ask the ground to whisper up
the effort, for you the skull-shaped
vocabulary, copping forth lightning
and hunger. Always mistranslated.

RIDING TO NARROWS IN THE FOG
The only house left on this road
is being swallowed. Maybe it's the kudzu,
maybe it's the karst, maybe the fire-coals.
Maybe there's a chainsaw clawing
a stratus cloud through a window, a child
who smiles with glass sharding a field.
Maybe our old parents coat themselves
with doors that won't open. Maybe yellow-
headed blackbirds swizzle a rotting roof.
It can't really be the only house. How real
is real estate, that last place waiting? That
foggy grin in a side mirror posing for a road?

WHERE I MIGHT WAKE UP
We won't find a warbler
under our house where it might
laugh like a bowl full of feathers
chasing a pipe of copper mold
toward music. If there's a song,
there's its darkness to forget.
All this means I can't wake.
My father rides a pulley rope
to lift a wall in place. I sleep
and he tells me it's finally placed
like bamboo sprouting with snow.
If I wake, I'll look up into bamboo.

Clyde Kessler lives in Radford, Virginia with his wife Kendall and their son Alan. In 2017, Cedar Creek published his book of poems Fiddling At Midnight's Farmhouse, which Kendall illustrated.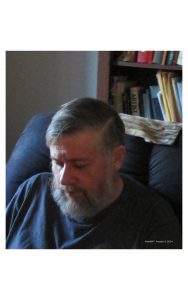 \

–Art by Dom Crossley — Artist Profile