Surrenders by Georgia Bellas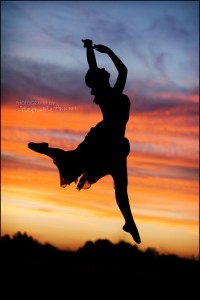 Hannah's mother danced the flamenco. Crack. Stomp. Hannah's mother cried through her lessons. She always had a glass of wine when she got home, her mascara smudged. But never more than two.
Once she tried to explain it to us: "You must control every movement, but it's an illusion. You're really surrendering your body. Every arch, every step, every extension of your arm is a sacrifice." Hannah rolled her eyes, "Mom, please," and grabbed me by the elbow. I let her pull me to her room and we left her mother, hands curved and reaching.
Hannah's mother sewed a perfect pair of white linen summer pants for her fiancé, Harold. Hannah's mother cut those pants to shreds when Harold left her. She drank a whole bottle of wine that night and flamencoed without stopping, knocking over a vase of long-stemmed roses. From behind Hannah's closed bedroom door we heard Stomp. Stomp. Stomp. Crack. Hannah put in earbuds, the volume spilling out in a cloud of static. Hannah's mother cried through an entire Joni Mitchell album and slept on the couch in her red dress.
We tiptoed past hours later, scooping up the roses, and ate ice cream straight from the container, passing it back and forth, one spoon. We poured vodka in our lemonade, bit the roses between our teeth, and fake tangoed across the kitchen floor. Cha, cha, CHA. Turn. Cha, cha, CHA. Turn. Dip.
We pinky swore to never dance the flamenco, to never let it break us. We were so sure we could keep that promise.

Georgia Bellas is a writer, artist, and filmmaker. Her work appears in a number of journals, has been nominated for a Pushcart, and is included in Sundress Publications' 2014 Best of the Net Anthology. You can follow her teddy bear, host of the award-winning weekly Internet radio show "Mr. Bear's Violet Hour Saloon," on Twitter @MrBearStumpy.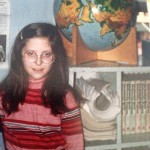 Running Sneakers | Air Jordan 1 Retro High OG 'University Blue' — Ietp