Styrofoam Dream by Frankie McMillan
What mama wanted from us we could never give but she'd take a wolfish smile from a man in pointy suede shoes and an Al Pacino moustache and she'd keep on taking a man until he was wrung out, until his money bag loosened and coins rained down his legs and all over our living room floor. Mama. What was we supposed to do with you?  You stole a bicycle from the woman next door, you rode it to the dairy, and you were laughing all the way. You stole the woman's husband next. You said you liked what you couldn't have and if we tried to say, Mama that's no way to behave, you did a little shimmy – shimmy dance and held out your arms to us. Was you Eartha Kitt? Was you Elizabeth Taylor? You could have been. A pretty mama is as real a thing as you ever get.
No one wants to scatter Mama. Not the way she wanted, anyway. Mama said she wanted to be fed to the whales. She wanted her ashes taken up in a plane by a good looking pilot and thrown over the  Heads where the whale pods were.  Scatter my ashes, babies. Scatter my ashes.
The wolfish man I talked of earlier. We thought he'd let her down. Sometimes you have to believe in the Styrofoam dream, the tall good looker, the money bags, the sugar daddy. Money don't grow on trees, Mama said. They don't grow in bushes neither but if you're lucky they might grow inside a rich man's pocket.
We can't recast our Mama in a different light. We can't repair the damage she done.  She caused a  hullabaloo alright,  but we can't stop loving her.  Just because she's dead and her ashes mildew and moss and shadow doesn't mean nothing. She's still our little party pack of tricks and glitter.  Our beautiful Mama.

Frankie McMillan is a New Zealand short story writer and poet. She is the author of 'The Bag Lady's Picnic and other stories' ( Shoal Bay Press)  and two poetry collections: 'Dressing for the Cannibals' and 'There are no horses in heaven'. (Canterbury University Press). In 2005 she was awarded the Creative New Todd Bursary. In 2008 and 2009 her work was selected for Best NZ Fiction anthologies. In 2013 and 2015 her poems were selected for Best New Zealand Poems ( online, Victoria University).  In 2014 she held the Ursula Bethell writing residency at Canterbury University. Other awards include winner of the New Zealand Poetry Society International Poetry Competition in 2009 and winner of the New Zealand Flash Fiction Competition in 2013 and 2015. Her latest book, 'My Mother and the Hungarians and other small fictions' ( Canterbury University Press) will be launched in August, 2016.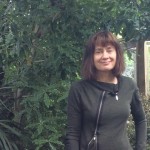 –Art by Kaia Pieters