Sprawl by Valerie Lute
Choose a spiral off the expressway, any one will do, into the land where neighborhoods bear names of the topography they replaced—Spring Creek Woods, Lakeside Farms, Autumn Oaks Manor.
In post-World War II neighborhoods, green mildew creeps up brick Cape Cods, and loose strings of caulking hang down from the picture windows. In the yards, a few brushy shrubs struggle to grow in the clay soil. Shrieking white and black children run in and out of front doors, no doubt coming and going from D'Shawn's house. His mother just squeezed a trampoline into her tiny square backyard. A group of barefoot kids take their big mutt out for a walk, getting dragged down the cracked sidewalk. When the cement abruptly ends mid-block, they hop across the hot asphalt, siblings and best friend/next-door neighbors in tow. Their parents won't be home for hours or are sleeping after working third shift, so the kids are free to skip their ADD medication or sell it. In silent moments, the sounds of the highway are still audible, like distant waves.
Follow telephone lines until they are regulated below ground. Here modern two-story homes perch on quarter acre yards and roads wind in gracious arcs. On a hot August day like today, residents might be emptying the Japanese beetle trap next to their rose bushes or watering their rhododendron. A woman still in her pencil skirt from work checks her tomato plant for ripe fruit. She finds one rotting on the vine. Jungle gyms rust with disuse, and sandboxes turn green. Blonde women with yoga-sculpted bodies power-walk while their tethered dachshunds yip at their heels. Cats watch the road from windowsills, tails swishing at the rare sight of a groundhog.
These neighborhoods fall in the shadow of the Seller mansion and the McAllister estate. Though the main houses are unseen from the road and blocked off by a wrought iron gate, the boat houses alone are enough to dwarf their own gabled homes. The owners are elusive, except once when the McAllister's peacocks escaped into the neighborhood, and McAllister's oldest son arrived to coax the sapphire birds down from a porch roof. They strutted across the shingles, squawking more like chickens than birds so graceful and lovely. The young man, like the birds, had soft brown eyes and a pointed ivory nose. Neighbors crept out from their homes to catch a glimpse of creatures so rare to see in what they call an average American neighborhood.
But back near the main road, a nondescript apartment building houses more humans than any given street in their neighborhood. Pass down the white corridors spotted with mysterious brown stains. Each room will have the exact same layout—living/dining room, galley kitchen, two bedrooms with a bathroom between them, but every tenant comes from somewhere different. The Vietnam vet hobbles down to the mailbox to collect his disability check. He fans himself with the envelope on the way back. His AC is broken, but he still buttons a blue shirt over his undershirt. Next door the lilted tones of Indonesian drift through the wall along with the sweet smell of curry. Six people cram into this two-bedroom apartment. But at least the schools here are good, and they can afford their rent on the four dollars an hour they get filling boxes at the Johnson & Johnson factory. At the end of the hall, a young meth addict has his door open. He's begging for rent from his girlfriend who keeps saying she's leaving. She leans an arm covered in bracelets against the door frame. But most tenants obey the law. Most are glad to be out of the city where the gun play woke them up at night.
The high school is perched on a hill overlooking the apartments. A girl who sleeps on a bare mattress rubs shoulders with a boy who spent the summer in France as they both struggle to find the right finesse for their new lockers. But then, the bell rings for first period and they are off to honors or college prep or remedial English, surrounded by their lifetime neighbors, to be prepared for their inevitable future.
Down the road, the flat black ocean of pavement that spreads from one parking lot to the one across the street. It is the most egalitarian locale. At the gas stations, people fill up their Hummer, their Prius with the "Free Tibet" bumper sticker, their beat-up Volkswagen with a front door that doesn't match, their pick-up piled with mulch, or their shining souped-up Chevy. It's back-to-school, and the yellow signs hanging in windows scream, "SAVE, SAVE, SAVE."

Valerie Lute is a writer whose short stories and poetry have appeared in Everyday Fiction, The Good Men Project, Prime Number Magazine, and the Rusty Nail, among others. She lives in Massachusetts where she reads like a fiend, listens to vintage punk rock, and occasionally goes outside.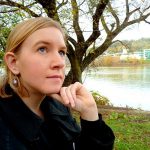 –Art by Steven Gray