Spooked by Iris N. Schwartz
He infiltrates my dreams. It is him leaving missives in my hotel room. It is him hiring private dicks to shadow me. He envelops a city in high-tech netting so I can't escape, thereby forcing me to witness his wedding. He's relinquished a truckload of weight, and has concealed his gray with light auburn hair dye (one shade away from mine). He is carnivorous. He means to eat me whole. I awaken, remember he is dead. I wish that mattered.

Iris N. Schwartz is the author of more than sixty works of fiction. Her literary fiction has been published in dozens of journals and anthologies, including Anti-Heroin Chic, Blink-Ink, Fictive Dream, Jellyfish Review, and Spelk Fiction. Her second short-short story collection, Shame (2019), contains Best Microfiction 2018-nominated story "Dogs" and was shortlisted by North of Oxford for recommended summer 2019 reading. Her debut short-short story collection, My Secret Life with Chris Noth (2017), was nominated for two Pushcart Prizes.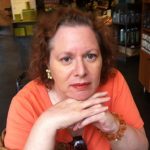 –Art by Marcos Lomba