Through the Sea Black as Tar by Slavica Turinski-Lazić
I cannot reach you…
If the waves would rise
on the first day of September
a Prince of Venice will depart
down the sea black as tar.
One pier will sail forever in my eyes.
I would like to meet you
there in a place where
echoes Venice of your poems.
But I am just watching
the surface of sea black as tar.
I cannot reach you
nor on the square of doves
in which my feet
crossed over your traces;
Now is the another time
and I will not bring to you
my twilights in the hands;
It played the imagination.
Just one pier will sail
forever in my eyes
just Prince of Venice will depart
down the sea black as tar.
If the waves would rise
on the first day of September
leave my twilights alone
and let them not dirty
of the last coin thrown
into the sea black as tar.
Let just random walker
in passing observes them.
One pier will sail forever
through the sea black as tar.

Slavica Turinski-Lazić is a Croatian poetess, prose writer, and painter. In 2012 she cooperated in International-Translation project in which have been translated the songs of Russian music band MKPN (represented Russia on Eurovision Song Contest 2010). In St. Petersburg (Russia) has been published the book "MKPN Songs Translations" where she participates with seven translations. In 2016 the publishing house Nova POETIKA (Belgrade, Republic of Serbia) published her poetry collection "Lineage of Twilight", collected by the Serbian National Library, Belgrade. Her poems and stories have appeared in numerous anthologies in the area of ex-Yugoslavia. Her story "The Fallacy" has been published in the April issue of the art magazine The Grief Diaries (in the New York City). She is living and working in Slavonia and Baranya (Croatia).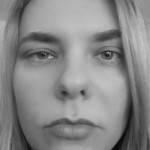 –Background Art by Xavier (abstrkt.ch)
–Foreground Art by Nicu Buculei