Peony Red by Holly Walrath
Looking out into the light of the
window framing the kitchen sink
she plunges her hands into
the soapy water – oranges.
The feathering suds on the tension
surface – little delirious delicacies.
Her hands are soft and diminishing,
becoming like the petals of the peony
or lace paper – gold leaf.
Outside – neighborhood children
walk in the tree line over the river.
The one little one – a china plate
impossibly tender white face
with low blue eyes rolling
on it like bright coat buttons.
If she were to touch that bending
head – peony red – oh what then?
Yesterday in the low white stone
walled garden, knees in the mud,
she shaved each bud and saved
the roots of the red bouquet.
Today, hours after the sin,
the peony tea consumed,
the deed done and easily,
the boy dead in the water.

Holly Lyn Walrath
's poetry has appeared in
Literary Orphans, Abyss & Apex, Zetetic Record
, and
Vine Leaves
, among others. She is a freelance editor and the associate director of Writespace, a nonprofit literary center in Houston, Texas. She currently resides in Seabrook, Texas. Find her online @HollyLynWalrath or
www.hlwalrath.com
.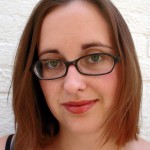 –Art by Kaia Pieters
spy offers | adidas kids singapore shop directory list in india UV GY3438 Release Date – SBD