Penelope and Odysseus by Cezarija Abartis
My dear kitty, come here to my hands. What you sniff is sweet olive oil on my fingertips. Here, little Oddy, here. Don't run away. I can weave spells that bring back an errant husband. This is not a lie.
Last night Odysseus told me about the Cyclops: how Polyphemus was big and brutal, killed six of his men, ate them, crick-crack like a cat chomping down on the head of a mouse. He told me about Circe and Calypso, how he was forced to sleep with the goddesses, but always thought about me. They were beautiful in their gauzy chitons, gold belts buckled around their narrow waists. Good stories. Meanwhile I had to bury our old dog. Odysseus is still snoring in our bed this morning. I have to do the shipping accounts.
I sweetened him up when he came home. He bathed and I anointed him with oil. I did weep over his scars. The gash above his knee, the one above his heart. My kitty lifted his paws to the edge of the tub, mewed indifferently after assessment and trotted away, tail vertical.
Odysseus never told me about what he got up to with Nausicaa. He said that her youth reminded him of me. Babbler that he was, he mentioned her name again, shut up, then yawned and stumbled to bed. I'm not young. Our son is twenty.
"Dear Penny," Odysseus said to me, sheepish, after the long narration, "I'm nobody without you." He dropped on the bed and fell asleep.
"I know, dear Oddy." Perhaps that is the wrong nickname, though he is an odd duck. I married him for his oddness. His boastfulness and vulnerability. His lies. There are no goddesses, only humans.
I never told him how I washed his clothes and put a spell in them that made him return to me. How he would suffer like every human. How he would never stay forever with another woman. How he would be powerful in battle, but lose himself only to me.
I don't mind him coming back to my kingdom. I have long needed an assistant. My kitty is not enough.

Cezarija Abartis' Nice Girls and Other Stories was published by New Rivers Press. Her stories have appeared in FRiGG, The Journal of Compressed Creative Arts, The Lascaux Review, Waccamaw, and New York Tyrant, among others. Her flash, "The Writer," was selected by Dan Chaon for Wigleaf's Top 50 online Fictions of 2012 and "To Kiss a Bear" was selected for Wigleaf's Longlist 2016. Recently she completed a novel, a thriller. She teaches at St. Cloud State University. Her website is http://magicmasterminds.com/cezarija/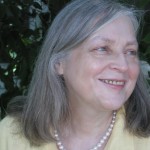 –Foreground Art by Milton G. (Paradise Found)
–Background Art by Xavier (abstrkt.ch)