The Passing of Ordinary Objects by Robert Crisp
When he sleeps, his dreams dial her up
and she answers the first, floating ring.
Hello? she says from a faraway phone booth,
hiding from the stalking rain.
Her voice is a sparrow's song in the static.
I'm sorry he says, crying now.
A lifetime of silence passes in a second.
Are you still there?
The cosmic dial tone fills his ears,
the abandoned phone booth now living
a closed-door life in a museum
that laments the passing of ordinary objects.

In his current incarnation, Robert Crisp teaches writing and literature at Armstrong State University in Savannah, GA. By night, he wanders through cemeteries, which isn't always tolerated by the local constabulary. He writes poems as often as he can.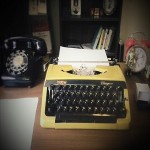 Best Sneakers | Women's Nike Air Max 270 trainers – Latest Releases