Ode to La Fée by William Hoyle
What myths and monsters paint the night
In hues of ghastly green and the absence of light?
Ghostly white, curdled with the essence of neutral tones,
Bones and skin and bloody knees, the beast finds herself appeased.
Erased from the face of the earth from birth.
Festering sore on the cheek of humanity,
I combat her vanity with a dripping prose,
Flipping her underworld free of all its flaming woes.
Stay the course, live among the light
Though the night is a jealous sprite, dealing only in death and spite.
Fight that Green delight until you find her absent her color,
Sobering valor shall resist her most horrifically shrill holler.
A new voodoo queen shall prowl this scene,
Laveau shall fade where La Fée shall incite parade.
A lavish spectacle, a Bacchanalia of fools
In which fairies and ghouls spawn bottles empty a' plenty.
And if so vigorous a she-devil should fail to fall abashed,
Then hold still with teeth gnashed, awaiting the foul tempest to pass.
Drink her down, hold yourself still,
And blink not, righteous friend, while baited breaths draw nil.

William Hoyle is a writer and history teacher from Charleston, South Carolina. He received his B.S. in history from the University of Wyoming. He has previously been published in a crime fiction magazine called Hardboiled based in Brooklyn, New York, and an online historical journal called Vexillum. He loves ancient Rome, New Orleans, and John Keats. He lives with his wife and children in Jackson, Alabama, and can be contacted at: Liamhoyle@yahoo.com.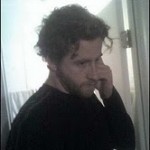 –Art by Charles Simms